Conference Communiqué: speaker announcement and registration deadline reminder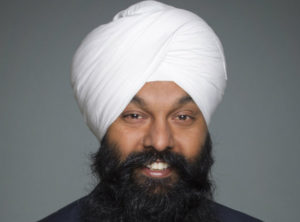 New speaker announced for Conference Opening Greetings
BCCPA is pleased to announce an addition to our Conference opening lineup of speakers on Monday, May 29th. As a representative of the Government of Canada, Mr. Randeep Sarai, MP for Surrey-Centre and the Pacific Caucus Chair for the Liberal Party of Canada, will bring greetings on behalf of the Hon. Jane Philpott, Minister of Health.
Born in Vancouver and raised in South Burnaby, Randeep graduated from UBC with a Bachelor of Arts and went on to complete his Bachelor of Laws at Queen's University. Randeep has been engaged in community work from a very young age, much of it learned through the examples set by his late father, and directed at anti-violence and anti-gang programs in the Fraser Valley. He supported his father to raise funds to fight against polio thru the local Rotary Club, build their local temple, and organize food drives. His mother worked in long term care homes, where he frequently visited her in his youth.
"Care providers are the backbone of health care in our communities," says Randeep. "I'm looking forward to joining fellow British Columbians in Whistler and showing my support for the continuing care sector."
Deadline to register for #BCCPA2017 Conference coming fast!
You have until next Monday, May 15th to register for our 40th Anniversary Conference and Celebration in Whistler, BC. Visit our Annual Conference web page for details about the Conference and how to register. Watch our short, just-released promotional video to help you make up your mind on whether to attend.
Play "Click" our App Photo Scavenger Hunt Game and Win!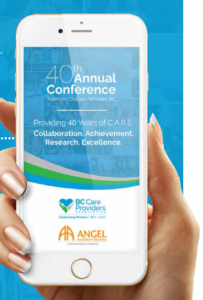 Those who have already registered can look forward to an exciting new opportunity to win fantastic prizes. Our #BCCPA2017 Conference App is now available for download. The app will have your personalized conference agenda, speaker bios, a list of our exhibitors and map of the trade show, and our #BCCPA2017 scavenger hunt game called "Click". Rack up points playing Click and you could be eligible for one of our prize packages!
Click the links to download the App – Android – iPhone/iPad – Blackberry (web version)
See the page at bccare.ca/app for details on our prize packages.
Time running out for Golf Tournament & Whistler Food Tour registrations
Join us for BCCPA golf tournament on Sunday, May 28th. Nestled in the Coast Mountain range of British Columbia, wildlife, scenery and incredible vistas are signature of The Fairmont Chateau Whistler Golf Course. This is your chance to win a 3-night stay and golf at a Fairmont Golf Property in our "hole-in-one" Par 3 challenge! There will be prizes for Closest to the Pin, Longest Drive, and Winning Team; golf cart luncheon, after golf reception, and the infamous "Win a Wine Cellar" draw!
Not golfing? Then be sure to ride along on the Whistler Tasting Tour on the 28th. Spend the afternoon with your fellow foodies, and savour some of Whistler's world class culinary scene.
Do not miss your chance to be in Whistler for our 40th anniversary celebration, and register today!