Conference Communiqué: Play #BCCPA2017 "Click" game and win big!
We are now only 30 days out from our biggest and most exciting conference ever. The 40th Annual Conference and Celebration at the Fairmont Chateau Whistler is happening on May 28th – 31st – have you registered yet? We are nearing capacity, so you do not want to delay! Deadline to register is May 15th.
Play "Click" our App Photo Scavenger Hunt Game and Win!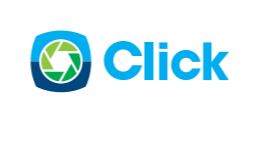 Those who have already registered can look forward to an exciting new opportunity to win fantastic prizes. Our #BCCPA2017 Conference App will launch during the first week in May. The app will have your personalized conference agenda, speaker bios, a list of our exhibitors and map of the trade show, and our #BCCPA2017 game called Click.
Click the links to download the App – Android – iPhone/iPad – Blackberry (web version)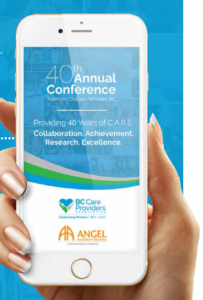 Delegates attending our 40th Anniversary Annual Conference have a chance to win one of five grand prizes and two consolation prizes if they play "Click" our App photo scavenger hunt game! You can win by simply visiting our popular commercial trade show, and rack up points by going to each of the vendor booths on-site.
Winners of the Click contest will have their choice of thousands of dollars' worth of prizes with a B.C. theme. Visit this page for details on each of the five grand prize package options, which include a vacation resort and health spa getaway, wine and food tours, remote coastal vacation destinations in heavenly Haida Gwaii, a private dinner prepared by a top-flight chef, and an Okanagan wine tour plus accommodation!
See the page at bccare.ca/playclickandwin for details on our prize packages!
Have you registered for our golf tournament?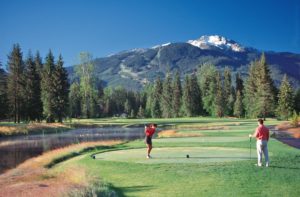 Join us for the largest industry golf tournament of the year. Nestled in the Coast Mountain range of British Columbia, wildlife, scenery and incredible vistas are signature of The Fairmont Chateau Whistler Golf Course.
This is your chance to win a 3-night stay and golf at a Fairmont Golf Property in our "hole-in-one" Par 3 challenge!
There will be prizes for Closest to the Pin, Longest Drive, and Winning Team; golf cart luncheon, after golf reception, and the infamous "Win a Wine Cellar" draw!
Do not miss your chance to be in Whistler for our 40th anniversary celebration, and register today!