Health Minister Presents 2nd Annual BC Care Awards
Care Providers Recognized For Outstanding Service and Innovation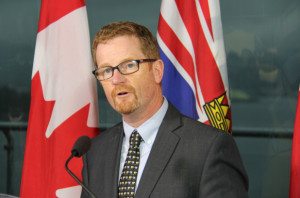 Hon. Terry Lake, Minister of Health will be providing opening remarks at the second annual BC Care Awards taking place in Victoria this evening. The Minister will also be presenting the three awards recognizing outstanding service in the continuing care sector of BC.
"We appreciate the efforts of care providers throughout British Columbia to continuously improve seniors' care on a daily basis," said Health Minister Lake. "The BC Care Awards are a great way to acknowledge the ongoing commitment of B.C.'s dedicated health care professionals."
Earlier this year the BCCPA Awards & Recognition Committee finalized the three winners of the BC Care Awards. The deserving recipients will be honoured this evening in the presence of invited guests which includes cabinet ministers, MLAs, BCCPA members and other key stakeholders.
"The three individuals we have chosen each demonstrate outstanding dedication and a passion for the work they do," says Daniel Fontaine, BCCPA CEO. "They continuously go above and beyond, set the bar high, and make a difference in the countless lives they touch. They encapsulate exactly what it is meant to be a care provider."
The three recipients receiving awards this evening are:
Wendy Miller,  Bayshore Home Health- BC Care Provider of the Year award recipient
Keith Anderson, Former CEO, Fraser Health- Ed Helfrich Long Service Excellence award recipient
Dr. Azim Jamal and Joe Moosa, Retirement Concepts- Innovation of the Year award co-recipients
About the BCCPA
BCCPA is the industry association representing private and non-profit care providers. Established over 35 years ago, BCCPA has over 260 non-denominational, faith-based and commercial members across British Columbia. In addition to creating over 18,000 direct and indirect jobs in the continuing care sector, BCCPA members care for more than 16,000 seniors each day in residential care and assisted living, and over 10,000 each year through home care and home support. For more information, please visit www.bccare.ca.