Concerts in Care Tour
BC Care Providers Association (BCCPA) in partnership with the Health Arts Society (HAS) launched 40 "Concerts in Care" performances in designated seniors care homes and assisted living sites on Vancouver Island, the B.C. Interior, and in the Lower Mainland. The concerts, and other special projects, are sponsored through a $40,000 grant from BCCPA announced at the organization's 40th anniversary conference.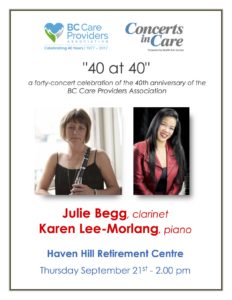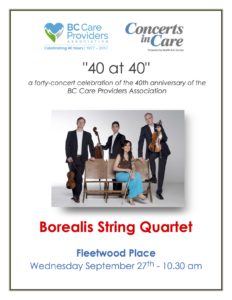 Through the Concerts in Care program, the Health Arts Society delivers professional musical performances to residents of long term care and assisted living sites across British Columbia, providing those isolated from the arts community the experience of enjoying the performing arts in their own health care setting.
Residents, their families, and staff all get to enjoy the stimulating, live 45-minute performances. The BCCPA has supported the Concerts in Care program over the years as part of its commitment to enhance the quality of life for B.C. seniors.
Concerts in Care Events
Date
Time
Concert
Performers
Venue
Address
Sept 11
3.00 pm
Piano
Karen Lee-Morlang
Cheam Village
(Conference Room)
1525 MacKay Crescent, Agassiz
Sept 11
1.30 pm
Piano
Karen Lee-Morlang
Logan Manor (Assisted Living Area)
7270 Elm Road, Agassiz
Sept 14
1.30 pm
Piano
Karen Lee-Morlang
Inglewood Care Centre
725 Inglewood Avenue, West Vancouver
Sept 14
3.15 pm
Piano
Karen Lee-Morlang
Sunrise Living of Lynn Valley
980 Lynn Valley Road, North Vancouver
Sept 18
10.30 am
Clarinet
Piano
Julie Begg
Karen Lee-Morlang
The Hamlets at Westsyde
3255 Overlander Drive, Kamloops
Sept 18
2.00 pm
Clarinet
Piano
Julie Begg
Karen Lee-Morlang
Brocklehurst Gemstone Care Centre
1955 Tranquille Road, Kamloops
Sept 19
10.30 am
Clarinet
Piano
Julie Begg
Karen Lee-Morlang
Hillside Village
2891 15 Avenue NE, Salmon Arm
Sept 19
2.00 pm
Clarinet
Piano
Julie Begg
Karen Lee-Morlang
Heron Grove
4900 20 Street , Vernon
Sept 20
1.30 pm
Borealis String Quartet
Patricia Shih
Yuel Yawney
Nikita Pogrebnoy
Sungyong Lim
Magnolia Gardens
5840 Glover Road, Langley
Sept 20
3.00 pm
Borealis String Quartet
Patricia Shih
Yuel Yawney
Nikita Pogrebnoy
Sungyong Lim
Langley Gardens
8888 202nd Street, Langley
Sept 20
10.30 am
Clarinet
Piano
Julie Begg
Karen Lee-Morlang
Spring Valley Care Centre
355 Terai Court, Kelowna
Sept 20
1.30 pm
Clarinet
Piano
Julie Begg
Karen Lee-Morlang
Brandt's Creek Mews – Dance Hall (2nd floor)
2081 Cross Road, Kelowna
Sept 20
3.00 pm
Clarinet
Piano
Julie Begg
Karen Lee-Morlang
Glenmore Lodge
325 Drysdale Blvd., Kelowna
Sept 21
1.45 pm
Borealis String Quartet
Patricia Shih
Yuel Yawney
Nikita Pogrebnoy
Sungyong Lim
Carlton Gardens Care Residence
4108 Norfolk Street, Burnaby
Sept 21
3.00 pm
Borealis String Quartet
Patricia Shih
Yuel Yawney
Nikita Pogrebnoy
Sungyong Lim
Courtyard Terrace
3730 Burke Street, Burnaby
Sept 21
10.30 am
Clarinet
Piano
Julie Begg
Karen Lee-Morlang
Summerland Seniors Village
12803 Atkinson Road, Summerland
Sept 21
2.00 pm
Clarinet
Piano
Julie Begg
Karen Lee-Morlang
Haven Hill Care Centre
415 Haven Hill Road, Penticton
Sept 27
10.30 am
Borealis String Quartet
Patricia Shih
Yuel Yawney
Nikita Pogrebnoy
Sungyong Lim
Fleetwood Place
16011 83rd Avenue
Sept 27
2.00 pm
Borealis String Quartet
Patricia Shih
Yuel Yawney
Nikita Pogrebnoy
Sungyong Lim
The Gateway
13787 100th Avenue, Surrey
Sept 29
10.30 am
Violin
Clarinet
Piano
Martine denBok
Nicola Everton
Susan Gould
Rocky Mountain Village
55 Cokato Road, Fernie
Sept 30
2.00 pm
Violin
Clarinet
Piano
Martine denBok
Nicola Everton
Susan Gould
Joseph Creek Care Village
1701 Willowbrook Drive, Cranbrook
Oct 2
2.00 pm
Violin
Clarinet
Piano
Martine denBok
Nicola Everton
Susan Gould
Lake View Village
1020 7th Avenue, Nelson
Oct 23
1.30 pm
Flute
Violin
Soile Stratkauska
Elyssa Lefurgey-Smith
Sidney All Care Residence
2269 Mills Road, Sidney
Oct 23
1.30 pm
Piano
Sergei Saratovsky
Chartwell Malaspina Care Residence
100 Eleventh St., Nanaimo
Oct 23
3.00 pm
Piano
Sergei Saratovsky
Wexford Creek
80 Tenth Street, Nanaimo
Oct 23
3.00 pm
Flute
Violin
Soile Stratkauska
Elyssa Lefurgey-Smith
Rest Haven Lodge
2281 Mills Road, Sidney
Oct 24
1.30 pm
Piano
Sergei Saratovsky
Dover House
6155 Hammond Bay Road, Nanaimo
Oct 24
2.45 pm
Piano
Sergei Saratovsky
Kiwanis Village
1233 Kiwanis Crescent, Nanaimo
Oct 25
1.45 pm
Flute
Violin
Soile Stratkauska
Elyssa Lefurgey-Smith
James Bay Care Centre
336 Simcoe Street, Victoria
Oct 25
3.00 pm
Flute
Violin
Soile Stratkauska
Elyssa Lefurgey-Smith
Sunrise Living of Victoria
920 Humboldt Street, Victoria
Oct 25
1.30 pm
Piano
Sergei Saratovsky
Arrowsmith Lodge
266 Moilliet Street, Parksville
Oct 25
10.30 am
Piano
Sergei Saratovsky
Stanford Seniors Village
250 Craig Street, Parksville
Oct 26
1.30 pm
Piano
Karen Lee-Morlang
Sandringham Care Centre
1650 Fort Street, Victoria
Oct 26
10.30 am
Piano
Sergei Saratovsky
Qualicum Manor
1245 4th Avenue East, Qualicum Beach
Oct 26
2.00 pm
Piano
Sergei Saratovsky
Fir Park Village
4411 Wallace Street, Port Alberni
Oct 26
3.00 pm
Piano
Sergei Saratovsky
Glenwarren Lodge
1230 Balmoral Road, Victoria
Oct 27
10.30 am
Piano
Karen Lee-Morlang
Selkirk Seniors Village
385 Waterfront Crescent, Victoria
Oct 27
10.30 am
Piano
Sergei Saratovsky
New Horizons
850 14th Avenue, Campbell River
Oct 27
3.00 pm
Piano
Karen Lee-Morlang
Luther Court Society
1525 Cedar Hill Gross Road, Victoria
Oct 27
2.00 pm
Piano
Sergei Saratovsky
Evergreen Seniors Home
635 Evergreen Road, Campbell River
Nov 13
10.30 am
Piano
Karen Lee-Morlang
Willingdon Care Centre
4435 Grange Street, Burnaby
Nov 13
2.30 pm
Piano
Karen Lee-Morlang
Augustine House-Delta
3820 Arthur Drive, Delta