It is no surprise that the COVID-19 pandemic not only brought challenges to the long-term care (LTC) sector, but also revealed systemic issues in pandemic management policies and procedures affecting residents, their families and staff. To help improve systems in place, Dr. Naz (Farinaz) Havaei, Assistant Professor from the UBC School of Nursing led a project called "A collaborative project to explore COVID-19 rapid redesign and redeployment best practices and their uptake in British Columbia long-term care sector." The purpose of this project is to produce better management practices and to recommend "actionable strategies"[1] for the LTC sector.
Alongside other LTC experts, BC Care Providers Association served as part of the project's advisory group and brought their pandemic management policy and practice expertise to help make improvements. From the conducted surveys and following discussions, there were seven key areas that emerged: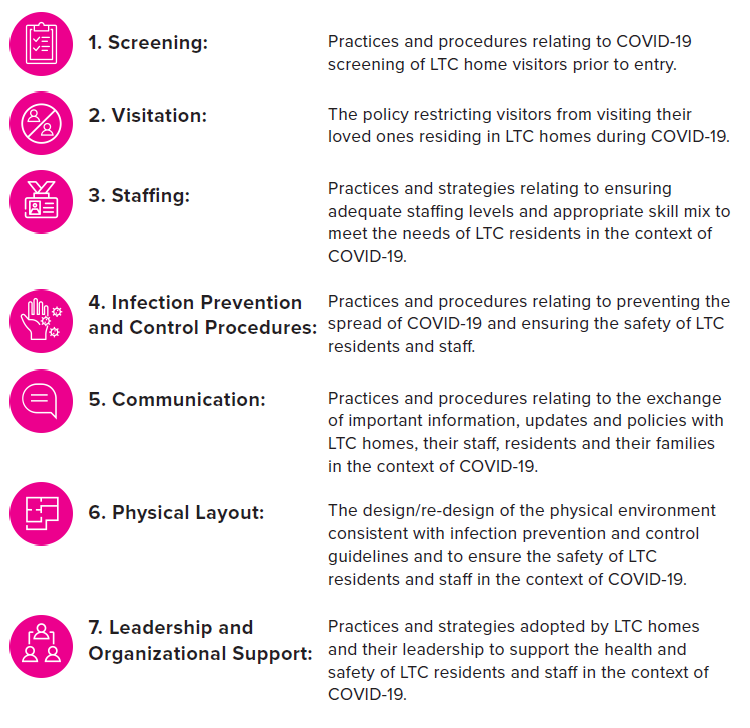 Based on these areas, the report provides recommendations to help improve policies and practices. For example, current screening procedures should continue to be practiced. Due to isolation and loneliness faced by residents during the pandemic, it is also recommended that each resident has one "essential or designated"[3]  visitor with the required vaccines and infection prevention and control (IPAC) training.
In terms of staffing shortages and heavy workloads, it is recommended that care homes have a contingency staffing plan. Mental health support should also be available for staff. With these challenges, IPAC was also difficult to manage in LTC homes. To improve this, the report recommends dedicating one staff member to oversee IPAC procedures, as well as to provide instructions for implementation.[4]
The recommendations also call on the BC Ministry of Health to review and replace ventilation HVAC systems in LTC homes across the province, as well as to decrease the need for shared rooms.[5]  Health authority communications with LTC home operators, staff and family members should have a more streamlined process so that there is time for LTC homes to implement policies.
To read full key findings and recommendations, read the final report here.
Click here to read the transcript of Dr. Havaei's podcast with Dr. Erica Machulak.
END NOTES
[1] Havaei, Naz (Farinaz), David Keselman and Ibrahim Abughori. Learnings from the Pandemic to Rebuild Long Term Care. (BC: University of British Columbia, 2022) p. 1.
[2] Ibid, 5-12.
[3] Ibid, 5.
[4] Ibid, 10.
[5] Ibid, 11.