Don't know how to choose? Route 65 and Assurity can help
There are many options to consider when seeking the right independent living residence or home health care provider for yourself or for a loved one. Deciding where to live, or who will help you or your family member with important day-to-day or personal tasks presents a lot of choices for any discerning consumer. Knowing what questions to ask will help you to make an informed choice.
That's why we developed Assurity, available exclusively at Route65.ca. With Assurity, people looking for the right provider can use our easy-to-use checklists to help older adults and the people who care for them to choose a quality home health or independent living provider.
Simply bookmark www.route65.ca/assurity, then visit the checklist links on that page. Just by reading them you'll be much better informed as to what you should be looking for in a home health support or independent living provider! The questions included in each checklist mirror the areas which EngAge BC's bases their Assurity certification upon.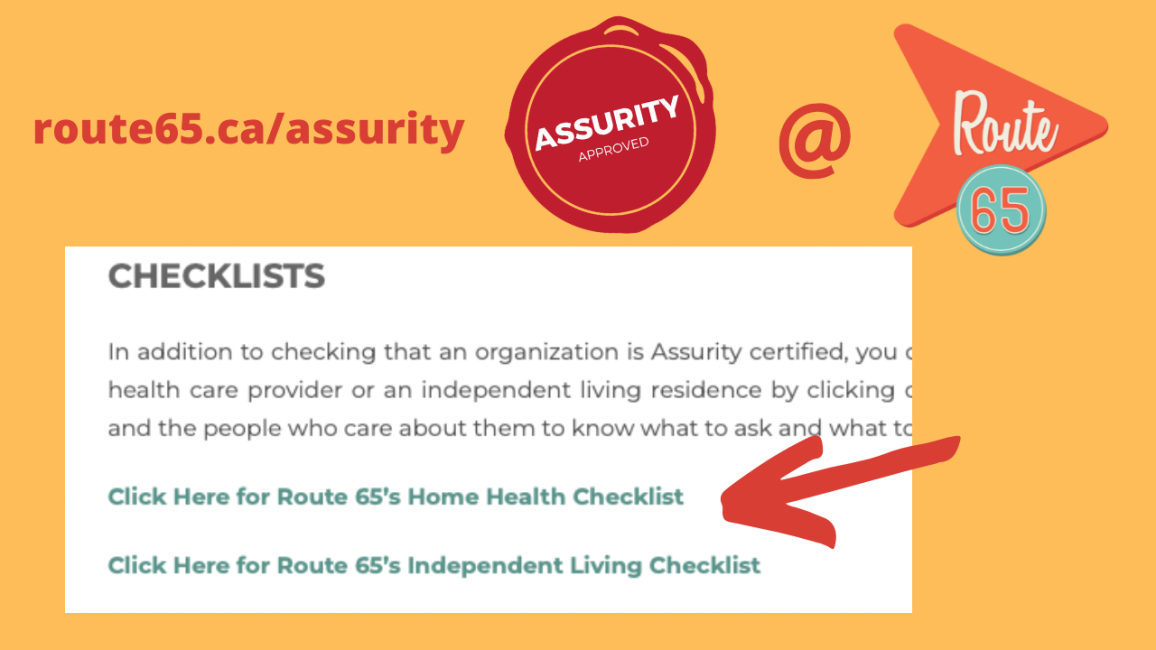 What is Assurity?
The Assurity program was developed by EngAge BC to make it easier for seniors and their families to choose a home health or independent living organization with confidence. An Assurity home health or independent living certification means that the organization has policies and procedures in place which meet or exceed industry standards.
Before developing Assurity EngAge BC spoke to operators across the province to understand what it means to be a quality operator. The Association also spoke to clients and family members about the things that were important to them when choosing services.
Visit the Assurity page on Route65.ca to find an Assurity approved home health provider in your community, or click here to learn more about your options.
Have questions? Please contact route65@engageseniors.ca.