We are pleased to announce that Safecare BC's Safety Den will be back for #BCCPA2022 Annual Conference in June! Are you passionate about helping your workplace stay safe and have plenty of safety ideas to share? Submit your ideas to the Safety Den for a chance to win $1000!
Safety Den is a Dragons' Den-inspired event presented by SafeCare BC that showcases ideas to enhance workplace health and safety. Individuals and organizations from across the province are encouraged to submit to the event. If selected, you'll present your idea in front of the competition's judges—the safety dragons!
Remember, no idea is too small. In fact, the simplest ideas often find the most success!
Applications are not restricted to members of the continuing care sector this year, Safecare BC has revived the Commercial category which provides organizations with the chance to win the coveted Safety Innovation of the Year Award.
It's easy to participate: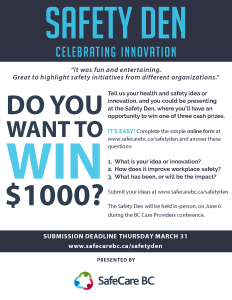 Submit your idea using our simple online form
Give us time to review all the submissions
If you're one of the three finalists do a fist pump and high-five your colleagues
Prepare your five-minute pitch to the Safety Dragons (don't worry, they don't breathe fire)
Contact us if you need help with your pitch
Convince the Dragons your idea is the best and win the $1,000 top prize, or brag when your organization wins the Safety Innovation of the Year Award in the Commercial category.
Do a fist pump again and high-five your colleagues
 The deadline to submit is March 31.
Need some inspiration? Check out the Safety Innovation Database, which includes some of Safety Den's past winners.