A Message to Our Seniors Care Sector Partners
"For a client, this is a success if they don't notice any difference."
– B.C. Seniors Advocate Isobel Mackenzie to Vancouver Sun, March 13th
On Wednesday morning after a story was leaked to the Victoria Times Colonist, BC Care Providers Association learned of the Government of B.C.'s decision to expropriate over 4,000 community health workers and move them into positions working for government.
There are a significant number of workers who will not be a part of the transition. We are currently working with our members to find out how many workers will be laid off.
…continue reading below
Video message from Daniel Fontaine
This will in no uncertain terms lead to higher costs — something that the Health Authorities confirmed when I spoke to them on Wednesday. It will not lead to the kinds of improvements seniors have been asking for, such as improved home support access and longer visit times.
BC Care Providers Association is calling upon the Premier, the leader of the Opposition and the BC Green Party leader to pause this process and conduct a thorough and open consultation with stakeholders—including seniors, providers, and BCCPA. Please read Wednesday's media release here if you have not already.
We are already hearing from seniors of their concerns over these heavy-handed changes by government. If you wish to weigh in, please email info@bccare.ca. We will keep the identities of any person contacting us confidential.
– Daniel Fontaine, BCCPA CEO
Home Care Expropriations: Media Highlights
B.C. government rolling privately-run home support services into health authorities (Global News)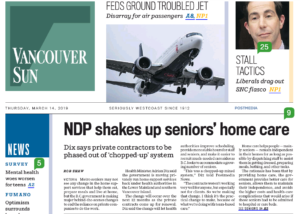 NDP ignores seniors' needs for cost-effective home support services: BC Liberals (The Indo-Canadian Voice)
Province taking over seniors' home care in southern B.C. (Black Press)
B.C. moving private home support services back into health authorities (Vancouver Sun)