Dear BCCPA Member,
It's hard to believe another year has passed by so quickly! Let me first thank you for your continued support of the BC Care Providers Association (BCCPA). Without members like you, we simply couldn't have accomplished everything we did in 2018.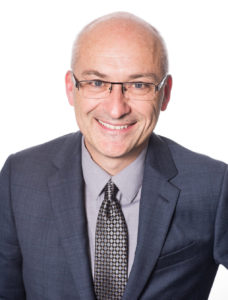 Over the 2 years, we've seen rapid growth in our membership. In fact, since February 2017, we've experienced a 31% growth in  our number of service provider members and 40% growth in our commercial membership. This has helped to expand our ability to strengthen the voice of BC's continuing care sector, and ensure we are heard by key decision-makers in our province.
2018 has been filled with many milestones and accomplishments it gives me great pleasure to highlight a few of them:
Province of BC announces an additional $550 million in new funding to ensure we can move to an average of 3.36 hours per resident day by health authority. Minister of Health Adrian Dix further commits that the majority of this funding will be invested in private care providers to hire additional staff.
Lieutenant Governor Judith Guichon joins the Minister of Health Adrian Dix on stage to present our 5th Annual Care Awards in Victoria.
$3 million in new equipment funding is approved and distributed to care homes across BC through BCCPA's popular Seniors Safety and Quality Improvement Program (SSQIP).
BCCPA CEO takes on the role as Chair of the Canadian Association for Long-Term Care.
41st Annual Conference is sold out with over 500 delegates and 80 exhibitors in attendance
BCCPA publishes multiple opinion pieces on a variety of topics in major daily newspapers. We also appear in numerous TV, radio and online stories.
5 major policy reports are published on key topics of concern to our members including:

Situation Critical: A Made-in-BC Plan to Address the Seniors Care Labour Shortage
A Pathway to Ensuring the Appropriate Use of Antipsychotics in Continuing Care
Health Begins at Home: Strengthening BC's Home Health Care Sector

Successfully hosted the 2nd Annual BC Continuing Care Collaborative focusing on developing a human resource strategy in seniors care in Surrey in partnership with the Ministry of Health.
Significantly increased our free member training opportunities across the province including workshops held in Kelowna, Nanaimo, Victoria, Abbotsford, Surrey, Burnaby and via webinar.
Held a major roundtable discussion 'Creating Communities of Care' in Kelowna focusing on the future of the Care Hub concept in BC, co-sponsored by TransLink, BC Housing, BMO and Stantec, with representatives from Interior Health, Coastal Health, Ministry of Health, City of Kelowna and Alzheimer's Association of BC among the many participants.
Launched a new Vancouver Island Senior Administrators Network (VISAN) and began work to replicate this in the Interior in 2019.
A record 130,000 views of our website over the past 12 months, including thousands of downloads of our policy and research reports.
Over 100 members voted at our Annual General Meeting for several policy motions and to fill eight Board of Director vacancies.
Approval by our membership to expand the BCCPA family to include Independent Living sites.
In addition, we have made some personnel updates at BCCPA, including:
Promoting Cathy Szmaus to Vice President, Operations and Corporate Partnerships
Promoting Lily Nguyen to Manager, Finance & Member Services
Renaming our Communications and Stakeholder Relations department to Public Affairs
To Our Sponsors
2018 was a banner year for corporate partnerships. Their support enabled our association to continue to produce a record number of events across the province.
I would acknowledge and extend our appreciation to all of our sponsors named below.
Annual Conference
Title Sponsor: Handicare
Key Sponsors: Essity, Medical Pharmacies, Care RX, Rexall Health Solutions, Arjo, Telus, Remedy's RX, Medisystem, Fortis BC, Scout Technology Guides, Cardinal Health, Point Click Care, St. Elizabeth, Extendicare Assist, Silver Group Purchasing, Sobeys National Pharmacy Group, London Drugs, Gevity, Spectrum Cannabis, BC Notaries, MEDe-care, Retirement Concepts, Logical Solutions, Bayshore, Maxwell Management Group, Sonder Care,Pefuse, Terracom Systems, Catalyst, Sysco, Surge Learning, Westbridge Group, Manrex, BC Patient Safety & Quality Council, SafeCare BC, Heritage Health Care, Haddon, Medimart, I-Bridge, Shaw
Care to Chat
Title Sponsor: Rexall Health Solutions
Arjo, Essity, Medical Pharmacies, Sobeys National Pharmacy Group, Blueleaf, BC Nurses Union
Educational Partner: Blueleaf
BC Continuing Care Collaborative
Province of BC, McKesson Canada, Arjo
Creating Communities of Care
BC Housing, Stantec, Translink, BMO, Care RX, H&H Total Care, Vantage Living
Looking ahead
As you can see, we have had a very busy year! Looking ahead, I have no doubt 2019 will bring with it many more amazing opportunities and challenges for the sector, and we will be there to support our members all the way.
I want to wish you and your family a very Merry Christmas and Happy New Year! On behalf of the Board of Directors and our entire team at the BCCPA, all the best and thanks again for your support. Please take a moment to watch my video message embedded below.
Sincere regards,
Daniel Fontaine
CEO
Video message from Daniel Fontaine