Call for presenters for 2019 Annual Conference
BC Care Providers Association is pleased to announce the Call for Presenters for the 2019 Annual Conference is now open.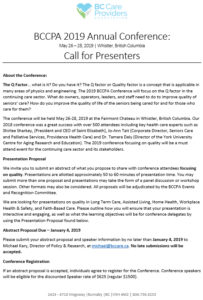 This year's conference will focus on the "Q factor" in the continuing care sector. What do owners, operators, leaders and staff need to do to improve quality of seniors care?
You are invited to submit an abstract of what you propose to share with conference attendees focusing on quality. Presentations are allotted approximately 50 to 60 minutes of presentation time. You may submit more than one proposal and presentations may take the form of a panel discussion or workshop session. Other formats may also be considered. All proposals will be adjudicated by the BCCPA Events and Recognition Committee.
We are looking for presentations on quality in long-term care, assisted living, home health, workplace health and safety, and faith-based care. Please outline how you will ensure that your presentation is interactive and engaging, as well as what the learning objectives will be for conference delegates.
Click here to download the Presentation Proposal. 
Please submit your abstract proposal and speaker information by no later than January 4th, 2019 to Michael Kary, Director of Policy & Research, at michael@bccare.ca. No late submissions will be accepted.
About BCCPA's Annual Conference
The 2019 Annual Conference will take place from May 26-28, 2019 in Whistler, B.C. Inspiring and motivating workshops, high-profile opening and closing keynote speakers, engaging networking events and a dynamic trade-show make BCCPA's Annual Conference the premier event of the seniors care sector. The 2018 conference had a record attendance of service providers, commercial members, exhibitors and community service groups from across Canada and beyond.