BCCPA paper provides recommendations to ensure that "health begins at home" for seniors
(Burnaby, B.C.) February 15, 2018: British Columbians strongly support the idea of "aging in place" and giving seniors the option to remain in their homes as long as possible. But will high quality, dependable home care always be available for many B.C. seniors? It is well-known that high demand for home care and home support is putting a strain on these publicly-funded services.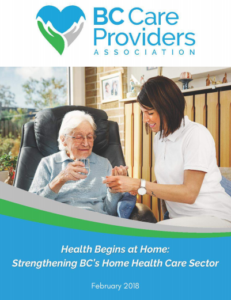 Today, a paper released by the BC Care Providers Association (BCCPA) outlines several bold and innovative approaches to strengthen and sustain B.C.'s home health care sector.
Developed over the course of a year, the paper titled Health Begins at Home: Strengthening BC's Home Health Care Sector, brings forward a series of recommendations based upon in-depth research on global best practices and after conducting intensive consultations with stakeholders across the home health care sector in B.C.
"Our home health care paper brings forward innovative ideas and solutions to ensure high quality, dependable care at home is available to B.C. seniors today, and for future generations," says BC Care Providers CEO Daniel Fontaine. "While new public investments are critically important for the home health care sector to succeed, new approaches to the delivery of these services are also vital. Our proposals can help B.C. seniors get the care they need, at the right time, right at home."
Health Begins at Home follows the 2017 release of the major BCCPA policy paper, Strengthening Seniors Care: A Made-in-BC Road Map.
Highlights of the Plan
Health Begins at Home outlines four key themes:
Investing in funding;
Investing in seniors;
Fostering innovation, and;
Investing in quality.
The paper includes eight key recommendations to strengthen the BC's home health care services. Through targeted funding of approximately $110 million in new funding per year aimed at implementing recommendations in the paper, the B.C. government along with health authorities, service providers, and other partners can strengthen the quality of life and quality of care experienced by seniors accessing home health care services.
RECOMMENDATIONS INCLUDE:
Longer home care visits. The paper recommends increasing the minimum home care and home support visit times to at least an average of 30 minutes or higher, through an annual $50 million funding investment to support this goal. BCCPA takes the position that short visit times are insufficient to ensure the dignity of seniors as well as provide quality care.
Care credits for more choice, flexibility. The paper advocates the BC government explore further the appropriateness or feasibility of the care credit model in home health care to provide seniors with greater opportunity into their care choices.
More preventative home care services for seniors aged 75+. BCCPA is asking that the Ministry of Health begin to offer preventative home health care visits to people 75 and older on a proactive basis, in order to prevent pre-mature frailty and ensure that seniors are provided with the necessary care as soon as possible.
A new industry-led quality assurance standard. In B.C., there is currently little oversight for private, non-subsidized operators. BCCPA is recommending the development of a made-in-B.C. quality assurance model in the home health care sector, with a focus on implementing standards to ensure quality across the sector, specifically to support agencies providing privately paid services, as well as helping seniors and families make informed choices about care. BCCPA has already begun to work in this area by initiating a new expert home health working group.
By 2038, the population aged over 65 will account for an estimated 24 to 27 per cent of the population, with the proportion of seniors nearly five percent higher than the Canadian average. The aging population is among the most urgent issues facing governments today, yet it has not been made a top priority yet for policy makers.
"The B.C. government's priorities have been consistent with supporting our seniors," says Fontaine. "Tuesday's Budget speech will indicate how they intend to put political campaign promises into action for B.C. seniors.
"We believe that by implementing the recommendations put forward in this paper, the care will be there for B.C. seniors for decades to come."
-30-
Interview with Daniel Fontaine on Roundhouse Radio
For More Information:
Mike Klassen, Vice-President
Communications and Stakeholder Relations
604-377-5499
mklassen@bccare.ca