Recognizing the vital contribution occupational therapy makes to healthcare, the Government of BC declared October 2017 as Occupational Therapy Month.
Imagine you could not do the things that are important to you in your daily life. Because of occupational therapy, people can participate in activities that are important in their everyday life.  Whether it's walking the dog, preparing a meal, going to work, school, playing games or doing laundry, occupational therapists create solutions that let you live life to the fullest.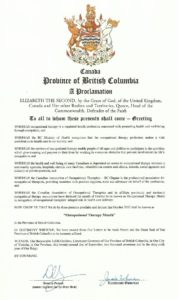 How you occupy your time – your daily occupations – can be challenged if injury, illness, disability, social or environmental factors restrict your participation.  Occupational therapists can design a plan to help prevent or overcome the barriers that you may face, getting you back to enjoying your life.
Occupational therapists work in a variety of places, such as schools, hospitals, workplaces, homes and in the community.  They are regulated health professionals who collaborate with people through the assessment, design and implementation phases to deliver personalized care.
Occupational therapy works. Occupational therapists (OTs) improve the health and well-being of people by creating client-centred solutions that help them participate more fully in activities that are important to their everyday lives. OT's work with patients in a range of settings with a wide variety of physical, mental and cognitive conditions that are chronic or episodic in nature.
By considering the individual, in his or her environment, determining the necessary competencies and skills set to "manage" the business of "daily functioning and living" OT's are able to unleash an individual's potential so that s/he can participate and thrive in daily life.
Occupational therapy is directly linked to better value, better health and better care, improving lives and saving money.
In B.C., 56 per cent of over 2,400 clinicians report working with seniors. In residential care, occupational therapists provide vital services including mobility assessment and prescription, pressure sore management and prevention along with meaningful engagement in activities ("occupations") such as personal care and socialization. An occupational therapist can work with a senior in order to maintain independence in daily activities and/or build skills so they can independently get to the toilet or assist with bathing.
In the community, occupational therapists help seniors stay safe and independent at home longer and prevent unnecessary hospitalizations with home assessments for safety, fall prevention, environmental modification and more.

Learn more about accessing occupational therapy in B.C. 
To find an occupational therapist in your community, contact CAOT-BC.
About CAOT-BC
CAOT-BC is a regional chapter of the Canadian Association of Occupational Therapists and the voice of occupational therapists in British Columbia.
Questions? Contact CAOT-BC at caotbc@caot.ca or 1-800-434-2268 x265.