The BC Care Providers Association is pleased to welcome back Angel Accessibility, a division of Handicare, as the title sponsor for the 2018 Annual Conference.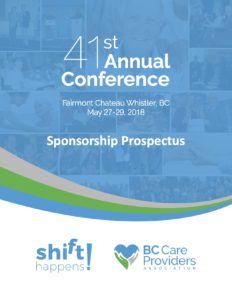 The BCCPA issued an open RFP allowing any commercial organization to submit a bid, and after thoroughly reviewing all submissions, Angel Accessibility was selected as the title sponsor.
Chris Swift, General Manager at Angel Accessibility, said, "The Angel Team is very excited to be returning as the title sponsor for the 2018 conference."
"Over the past three years we have enjoyed being the title sponsor, and bringing our safe patient handling solutions to the members of BCCPA. We look forward to continuing the partnership with BCCPA and all members of the association. Here's to a great event in 2018!"
The 2017 Annual Conference, which also celebrated BCCPA's 40th anniversary, was a roaring success with over 500 attendees, including service providers, commercial delegates, exhibitors, and government officials from Canada and beyond. The 2018 conference is expected to raise that bar even higher.
"We are thrilled to have Angel Accessibility team back as our title sponsor again in 2018," said BCCPA CEO Daniel Fontaine.
"We have developed a great partnership with them over the years, and our team looks forward to working them to put on the best conference ever."
For a complete list of sponsorship opportunities for BCCPA's 2018 Conference, see the Sponsorship Prospectus document.
About Angel Accessibility
Angel Accessibility has been a leader in injury prevention since 1994, offering a wide range of innovative solutions for safely lifting, transferring and repositioning patients. Angel's mission is to deliver innovative and functional patient handling solutions along with superior customer care providing "The Right Solution – Every Time."
A commitment to technical innovation, exceeding expectations and client-focused solutions continues to set Angel apart today. This innovative spirit is one of the reasons Angel was selected as the ceiling lift vendor for the Vancouver Island Health Authority, the Interior Health Authority and Northern Health Authority.
About the BCCPA
The BC Care Providers Association is the leading industry association for B.C.'s continuing care sector. We have been serving non-government care providers for over 40 years. Our growing membership includes over 300 residential care, assisted living, home support and commercial members across the province. Our members employ more than 20,000 people and provide care for over 27,000 seniors each day.
Stay tuned for more details on the 2018 Annual Conference.