About one in five (22 per cent) of Canadian seniors admitted to long-term care might have been able to stay in their own homes if appropriate supports such as home care had been available, according to a new report from the Canadian Institute for Health Information (CIHI).
But in British Columbia that number is much lower – 15 percent – the lowest average in the country. While that is reason to celebrate, that figure can be reduced and the right steps are being taken here to make it happen.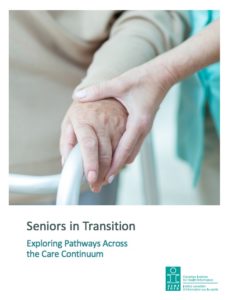 CIHI recently published their report titled Seniors in Transition: Exploring Pathways Across the Care Continuum. The organization established a working group of representatives of health regions and ministries of health from Ontario, Manitoba, Saskatchewan, Alberta, British Columbia and Yukon.
It studied over three years more than 59,000 seniors whose care needs were assessed by health-care professionals. The analysis looked at seniors that enter residential care following an initial assessment, which is used to determine eligibility and priority for placement in continuing care.
In B.C., 15 per cent of seniors with low to moderate care needs went into long-term care as compared to 33 per cent in Manitoba — which had the highest admission rate. Saskatchewan had the second lowest rate at 16 per cent.
In a report issued last fall, BC's Seniors Advocate indicated a 9.6% drop in "inappropriate" admission to care over the previous 2 years.
BC Care Providers Association has long called for a "one percent shift" of funding that would typically be invested in an acute care setting, and use those resources to increase supports for more appropriate home and community care.
According to Statistics Canada, a minimum of 13 percent of seniors receiving hospital care in BC should be receiving an alternate level of care (ALC) in the community. We have applauded work done by the Fraser Health Authority, for example, to establish new beds in the community and removing approximately 80 spaces from the costlier acute care setting.
In addition, more progress is being made in British Columbia because of pending legislation that will impact assisted living residences. The Assisted Living Amendment Act (also known as "Bill 16") will change regulations that limit the number of "prescribed services" AL providers can offer, which allows residents to stay in their assisted living residence longer.
BC Care Providers has hired a new manager of public affairs – Rebecca Morris – who will be assigned exclusively to supporting both assisted living and home care providers.
There are many factors as to why someone is admitted into residential care, according to the CIHI report. Those factors included higher levels of cognitive or functional impairment, a senior living alone or caregivers unable to continue to provide support.
Typically hospitalized seniors have been through a lengthy acute care stay and are still continuing to convalesce. To get a true reading of their needs, the report authors say it's better for seniors to be assessed after they get home.
When it comes to the delivery of seniors care, there is a big motivation to get it right. Growth in Canada's senior population has been steady for 20 years, but within the next two decades the number of those 75 years and older is expected to double.
As the senior population grows, health systems will face higher demands because of increased chronic conditions and greater expectations from seniors about remaining home as long as possible.
The CIHI report notes: "If we assume that health services will be provided in the future as they have been in the past, health systems would need to double existing residential care capacity over the next 20 years to keep up with population growth. Clearly, this is not a feasible or appropriate option."
BC is clearly setting the example for the rest of Canada on how to reduce early care home admissions. It will take significant leadership here at home and across the country to ensure seniors are getting the right care, at the right time, and in the right place.