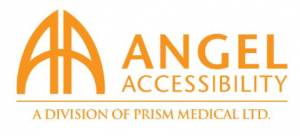 In October, we were excited to announce Angel Accessibility as the Title Sponsor for the 2017 Annual Conference. As part of their sponsorship, Angel Accessibility is making an exclusive offer by offering preferred pricing to all BCCPA members for one year on all equipment, track, sling, and preventative maintenance sales as of November 2016.
As a commercial member and returning title sponsor, Angel looks forward to the 2017 conference and being able to showcase its growing line of patient handling and bathing products and services focused on making health safer for caregivers and residents
For more information, please contact one of your local representatives.
Char MacMillan (Interior and Northern Health)
char@angelsolutions.com
250-878-5735 
Scott Mackett (Vancouver Coastal and Providence)
604-347-8453
Patricia McCormack (Fraser Health Authority)
patricia@angelsolutions.com
604-737-0783
Kim Francis (Vancouver Island Health Authority)
kim@angelsolutions.com
250-514-7401