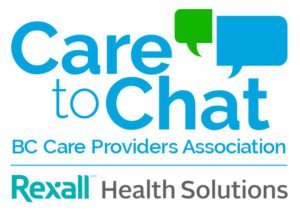 To help foster greater discussion on mental health issues in the workplace, the BC Care Providers Association (BCCPA) will be co-hosting a Care to Chat event with SafeCare BC, whose mandate is to reduce worker injury rates in the continuing care sector. Our event is titled:
Who Cares? Should More be Done to Support the Mental Health & Wellness of Continuing Care Staff in BC?
We will discuss issues such as the prevalence of mental health issues in the continuing sector; including what can be done both at an organizational and system wide level to deal with such concerns.
The distinguished moderator and panel members bring the insights which will make for an engaging kick off to our 4th season of Care to Chat on November 17th. Be sure to register while seats are available!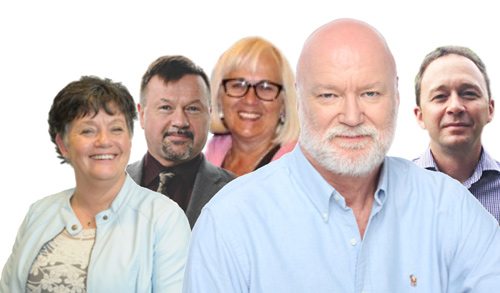 Jon McComb
Our moderator is award-winning broadcaster Jon McComb. In 2011 Jon's commentary, which revealed his personal trials with depression and anxiety, was judged the best broadcast editorial in Canada. More recently he was honoured with the RTDNA "Lifetime Achievement Award". Jon is the host of "The Jon McComb Show" 5:30 – 10am weekdays on CKNW.
Sandy Coughlin
Sandy is Director, Occupational Health and Safety at Providence Health Care. She has extensive experience in disability management and has been an integral part of designing processes which have resulted in both keeping staff at work and returning them quickly wherever possible, resulting in significant savings to the organization's bottom line. Sandy takes a holistic approach to employee health, including spiritual, physical, emotional and mental wellness and believes that if we are effective at both preventing injuries/illnesses and early recognition of and treatment of any issues, we will have a more engaged staff.  Happy, healthy, engaged staff equals better patient/resident/client care.
Dr. Merv Gilbert
Dr. Merv Gilbert, Principal at Psych Health and Safety, is a psychologist who has over thirty years' experience in direct clinical and leadership roles at regional, provincial, and international levels. He has skills in the development and implementation of best practice interventions, training, evaluation, and knowledge translation as well as participating in program development, research and teaching. Merv has published in national and international professional journals and has presented at a diverse array of forums on the importance of workplace mental health issues for individuals and organizations. He continues to serve on a number of professional and non-profit organizations. His most recent work has been conducting research and creating resources on behalf of the Mental Health Commission of Canada.
Jackie Spain
Jackie operates Golden Solutions, and works with BC Federation of Labour Occupational Health and Safety Centre facilitating workshops for multiple industry sectors across the province. She worked with the Occupational Health and Safety Agency for Healthcare (OHSAH) from 1999-2010. In dangerous goods education and compliance, Jackie worked diligently in support of standardizing training and specimen transport in BC. These efforts resulted in a project for all the Lower Mainland Health Authorities Laboratories – in addition to several other facilities – to insure excellence in dangerous goods compliance. Her work in OH&S combined with experience as a Medical Laboratory Technologist has led her to explore the field of stress management, and provide new perspectives for organizations and their employees.
Simon Neill
Simon Neill, Executive Director, Broadway Pentecostal Lodge, spent a decade working in the fast paced world of project management in London UK, before stepping over to a completely different career path, and was ordained as an Anglican Priest. During his ten years in ministry Simon worked closely with hundreds of individuals struggling with issues of addiction and poor mental health. In 2008 Simon and his family moved to Canada in order to partner with organizations working within Vancouver's Downtown Eastside.
When:     Thursday November 17th
Where:    Terminal City Club, Vancouver
Time:       11:30 am – 2:00 pm

See our Care to Chat Speaker Series page for more details.