An article in the Seattle-based Journal of Daily Commerce (DJoC) recently caught the eye of BC Care Providers. Architect Jerry McDevitt is a principal at GGLO, an integrated design firm which aims "to create thriving communities across all of their markets including senior living, housing, mixed-use development, hospitality and campus environment."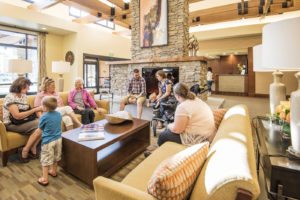 In the DJoC report McDevitt describes how he wants more seniors facilities designed with attractive public spaces that give residents and their families welcoming places to gather.
"I've been an architect designing senior housing for 20 years, but I developed a fresh perspective during the six years I spent helping my mother move several times as her care needs increased," writes McDevitt. "My sister and I visited many senior living facilities to find a good fit. Often, we made a quick judgment about whether or not to stay for the tour by watching residents and caregivers interact and trusting our gut. Was this truly a community or simply a place to warehouse people? Many times, we left without taking the tour.
"Those experiences only strengthened my focus and passion to create better options; to create thriving community through a collaborative, human-centered design approach."
"Experiences, not structures"
McDevitt describes the philosophy of his design firm as follows.
"We believe design stimulates community by creating spaces inside and outside that provide opportunities day after day for new experiences and shared memories that are forever for seniors, their family, and friends…
"By focusing on meaningful experiences rather than structures, corridors and rooms, we are able to realize new and appropriate opportunities that define a community's unique spirit and identity."
"Design creates community"
"Our vision is of senior living future," says McDevitt. "It's for active, engaged people who want to be part of a community. Design stimulates that community. Design creates thriving places where people go to live, places where they create and share new, energizing experiences. Successful projects require not only deep design and technical expertise, but also an understanding of human needs and interests. They demand seeing and doing things in a new ways."
Read the article on the DJoC website.