The following op-ed was written by Hospital Employee's Union Secretary/Business Manager Jennifer Whiteside and was published on May 18 in the Vancouver Sun. It is a response to the BC Care Providers Association's support of the Fraser Health Authority's decision to close hospital beds to fund expanded residential care beds.
+++

The business association representing residential care contractors has applauded the Fraser Health Authority's (FHA) recent decision to close hospital beds to fund an expansion of nursing home beds.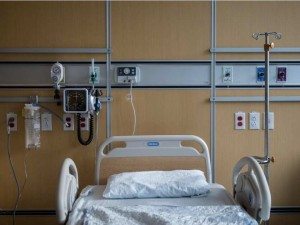 Of course, the BC Care Providers' Association has an interest in acquiring more business for its members. And there's no question that more residential care is needed.
B.C.'s seniors' advocate has pointed out that over the last five years, the number of residential care beds in the province has not kept pace with an aging population.
And she reported that most residential facilities are not funded to meet government staffing guidelines to deliver services to seniors.
But decommissioning hospital beds to pay for an expansion in residential care looks to be driven more by budget considerations than by sound health system planning.
Consider that if you show up at one of FHA's emergency rooms today, there is a 60 per cent chance you will wait more than 10 hours to be admitted.
And once admitted, you may end up waiting — along with 191 other patients — for a hospital bed to become available, according to the FHA's December 2015 patient care report card.
I doubt those waiting in an ER or for surgery believe there are too many hospital beds in Fraser Health.
The theory is that by transferring patients to some combination of residential care, home care and specialized forms of housing and support, the overcrowded ERs and hallway medicine will disappear.
Moving seniors with complex care issues out of hospitals and into residential care is good public policy. It's often the most appropriate setting for meeting their care needs.
But it's a transformational change that must be properly planned and resourced for it to succeed. And over the long run, if done properly, expanding residential and home care will take pressure off hospitals.
But I would suggest that immediately cutting hospital capacity to pay for residential care expansion will undermine a successful transformation and compound the crisis in our ERs.
I'm not alone on this.
More than a decade ago, Fraser Health was grappling with the same dilemma, but came to a very different conclusion on how to proceed.
The FHA's 2006 plan was developed with the input of 500 Fraser Health clinicians and https://bccare.ca/wp-content/uploads/2022/08/medcare-img22.jpgistrators.
It concluded the health authority needed to either double the number of acute care beds or invest in the expansion of both hospital beds and community care by 2020 to meet patient needs.
The FHA chose the second option and it became the plan.
Much like today, the FHA hoped to transfer patients who no longer required hospitalization into community care through a number of measures, including adding more residential beds in the region.
Expanding community care made sense then and it makes sense now.
But significantly, at no time did the 2006 plan call for hospital bed cuts.
Instead, FHA management envisioned more beds across the board, in both hospitals and community. By 2020, FHA planned to boost hospital beds by 64 per cent and residential care capacity by 38 per cent, a balanced plan that contemplated population growth and population aging.
But constrained by anemic increases in provincial funding, FHA failed to deliver. By 2015, they had fallen far short of their new bed goals  in both hospitals and residential care facilities.
Without adequate investments in the community over the past decade, patient demand for hospital beds has not decreased even with the addition of a new hospital in Abbotsford and expanded capacity in Surrey.
That means the FHA's recent decision to cut hospital beds is no plan at all.
It never was.
Fraser Health, or any other health authority for that matter, needs the resources to both expand community and acute care capacity to meet the growing health care demands in our province.
And Victoria needs to make sure the funding is there to meet that need.