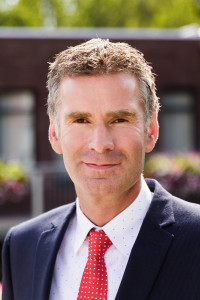 On Nov. 25 Eloy van Hal, one of the founders of Dementia Village in the Netherlands, will be the keynote speaker at the upcoming Care to Chat event titled Dealing with Dementia: Can the Dementia Village Model Work in Canada?, co-hosted by the BC Care Providers Association and SafeCare BC.
van Hal, who is the Senior Consultant and Founder of Hogeweyk Care Concept, hopes his interactions with British Columbians will be beneficial for both sides.
"I want to inspire people," he said. "But I also want to learn from B.C. models."
"[I want people] to think out of the box on how we can improve quality of life for elderly people with an advanced stage of dementia by de-institutionalizing, normalizing, challenging and improving existing models and regulations."
There are about 240 employees at Dementia Village in the Netherlands dressed in street clothes and providing 24-7 care. All employees are trained in how to work with and react to people with dementia.
van Hal, who has worked in health care since 1997, doesn't see the Dementia Village model as something exclusive to the Netherlands. He believes it can work in Canada as well.
"Of course a model like the Dementia Village can work.," he said. "The model is much, much more than only the built environment, the Village itself. The built environments supports. It is more about a vision of how to take care of elderly people with severe dementia…You can adopt the principles and adapt it to Canadian society and culture."
Although van Hal lists de-institutionalization, normalization, legislation, regulations and managing expectations as a few of the many challenges facing the Dementia Village model, he and his colleagues remain dedicated and focused on their vision of a normal life for people living with dementia and they have seen positive results.
"We and our visitors observe residents with less stress, less challenging behavior, more happiness and in better shape," said van Hal. "We believe that residents stay for a longer period at a higher quality of life. It is already proven that social contacts are important."
RELATED: OP-ED: Exploring Dementia Villages and Other Care Models in Canada
Details
Date: Wednesday, November 25th, 2015
Time: Noon – 2:00 p.m.
Location: Terminal City Club – 837 W Hastings St., Vancouver
This event is sold out!
BBC Story on Dementia Village
Title Sponsor