The BCCPA was invited by the Deputy Minister of Health to participate in a major two-day forum discussing the future of seniors care delivery in BC.
The Minister of Health provided opening remarks whereby he encouraged the assembled group of health leaders to move beyond the discussion phase and into the action phase. Deputy Minister Stephen Brown also spoke to the attendees about the need to innovate in order to better handle the health care needs of an aging population.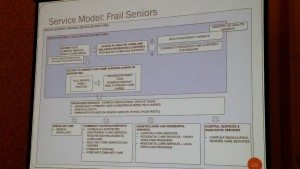 The BCCPA was then invited to present for 20 minutes on what the future of the continuing care might look like in 2045. It was a real "Back to the Future" experience as we looked ahead at some of the challenges facing policy makers.
In his remarks to the crowd on Day two of the dialogue, Stephen Brown made a point of publicly acknowledging the expertise that exists within the BCCPA and our membership. He encouraged all Health Authorities to work more closely with us as they map out future strategies for care.
The Ministry will be summarizing the discussion and putting forward an action plan for consideration this fall. The earliest we will likely begin to see some of the results of this dialogue will be in the 2016/17 fiscal year. The BCCPA will keep our members posted via The Insider if there are any more public developments.