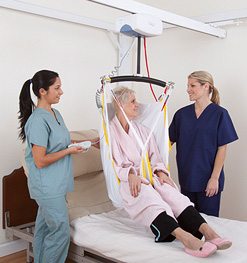 On September 11, 2015, the Review Board of WorkSafeBC overturned a work order pertaining to preventing musculoskeletal injuries (MSI) when transferring residents in Augustine House, a BCCPA member. The work order charged Augustine House with installing 12 new ceiling lifts in their complex care home in order to facilitate safer resident transfers, at an estimated cost of $120,000. The BCCPA has been closely monitoring this appeal as there are several other care homes facing a similar situation in the Metro Vancouver area. The BCCPA supports the Review Board's decision to repeal the work order and find alternative measures to ensure worker and resident safety.
Click here to view the full review decision.
Background:
On February 12th of 2015, WorkSafeBC issued Augustine House Society a work order based on their alleged violation of Section 4.50(1) of BC's Occupational Health and Safety Regulation, which states "the employer must eliminate or, if that is not practicable, minimize the risk of MSI to workers."[1] WorkSafeBC was concerned that because Augustine House's 12-unit complex care home did not have overhead ceiling lifts installed, there was a potential risk of injury to workers during resident transfers.
The subsequent work order charged Augustine House Society with installing overhead lifts in their complex care home in order to minimize the risk of MSI during resident transfers.
Augustine House contested the decision, arguing that their current health and safety practices meet both the spirit and intent of the regulation. While they had deemed overhead ceiling lifts not feasible, Augustine House had purchased additional stand-to-sit lifts, and made it mandatory for two people to assist with resident transfers.
The Review Board investigation found that given the relatively small degree of risk to the workers and the alternative safety measures Augustine House had taken, it was not practicable under these circumstances to require Augustine House to install overhead lifts at $10,000 per unit.
WorkSafe BC is a valued partner and we are pleased to see they are willing to work collaboratively with the goal of improving worker safety. As a sector we need to be flexible and innovative to find solutions that ensure worker safety, without imposing unnecessary costs and red tape.
"Augustine House Society absolutely puts the safety of our workers and residents first," says Tanya Snow, Executive Director of Augustine House Society. "Over the next 12 months, we will continue to work with WorkSafeBC to reduce the risk of MSI and other preventable injuries to our employees through best practices and procedures."