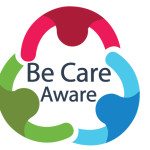 The government of British Columbia has proclaimed Thursday, Sept. 24, 2015 as Be Care Aware Day in the province of B.C. This proclamation represents a monumental achievement in raising awareness of the importance of caring for those who care for B.C.'s seniors – one of the main objectives of the Be Care Aware campaign.
"We are pleased to have the support of the provincial government for such an important cause," said Jennifer Lyle, Executive Director of SafeCare BC. "This proclamation recognizes and emphasizes the importance of staff safety in the continuing care sector."
In proclaiming Sept. 24th as Be Care Aware Day, the provincial government demonstrates a continued commitment to improving B.C.'s health care sector through supporting the creation of safer workplaces for continuing care staff.
"The provincial government is honoured to proclaim September 24 as Be Care Aware Day," said Parliamentary Secretary for Seniors, Darryl Plecas. "We support a safe work environment for all health care workers and we are actively working with our partners to make health care spaces as safe as possible for staff and patients."
The importance of staff safety is gaining momentum as a key issue in the continuing care sector, as evidenced by the broad base of support for the Be Care Aware campaign, including from the BC Care Providers Association.
"The Be Care Aware campaign is great initiative and will act as a conversation starter across the continuing care sector about safety and health in the workplace," said Daniel Fontaine, CEO of the BC Care Providers Association. "The official proclamation from the government shows that people are taking this important issue seriously."