The BCCPA is pleased to announce we will be holding our first Care to Chat event at Elim Village in Surrey on September 22nd. The event titled "Canada Cares: Putting Seniors on the National Agenda" will feature representatives from all four major political parties. The representatives who have been invited* include:
"This is the first time we've hosted a public forum and debate of this kind during a federal election," says Daniel Fontaine, CEO. "We're hoping to hear from each of the representatives regarding a number of issues related to seniors care including their views on the development of a National Seniors Strategy in Canada."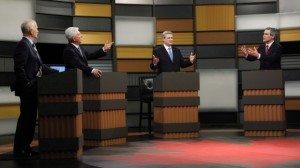 Care to Chat was first launched in 2013 and this event will mark the kick off its 3rd season. Well over 1000 paid attendees have attended these public forums which have covered a wide range of issues pertaining to seniors care.
"This season we plan to shake the format up a bit and are hoping to host at least half of our events outside of downtown Vancouver where they've been traditionally held," says Fontaine. "Thanks to the generous support of our corporate sponsors, we will also be providing hundreds of complimentary tickets to our members this year in an effort to get even more of them engaged in the discussion."
BCCPA service provider members are entitled to 5 free tickets as long as they RSVP prior to Aug 15th. Commercial members are also entitled to a complimentary ticket. Additional tickets can also be purchased through our online event registration system (see below).
_____
Event Details
Date: Tuesday, September 22
Time: 9-10 am – Networking Reception & registration (coffee & light snacks served)
          10:00 am -11:30 am Care to Chat – candidate debate/dialogue & audience Q&A
Location: Oasis Meeting Room, Elim Village, 9025 – 160 Street, Surrey (click here for map)
Moderators: TBA
Price: $75 for non-members
Parking: Free parking onsite
*we are awaiting final confirmation from each of the political parties regarding who will represent them at this event