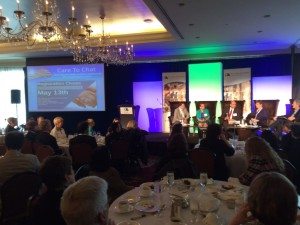 The BC Care Providers Association (BCCPA) is seeking a sole Title Sponsor for our Care to Chat series for the 2015-16 season. Please download the Special Request for Sponsorship Proposals, as well as the Submission Form by clicking here. Proposals are due Friday, July 17, 2015 by 12:00 pm PDT.
Care to Chat is a special speaker series hosted by the BCCPA. We will be inviting some of Canada's opinion leaders and experts to share their ideas, thoughts and insights, as well as engage in a dialogue, about important and emerging issues facing British Columbia's continuing care sector. The talks will be held as either breakfast or lunch sessions. Audience members will include residential and home care providers, government and health authority representatives, health and legal professionals, as well as seniors and families.
The 2015 – 2016 sessions will include three forums tentatively scheduled to take place in:
September 2015
November 2015
February 2016
May 2016 (occurs at the Annual Conference held in Whistler)
HERE'S WHY CARE TO CHAT IS
GREAT EXPOSURE

FOR YOUR COMPANY OR SERVICE
Over 660 paid attendees in the inaugural season 2013/14*
Over 725 paid attendees in the 2014/15 season *
>75% attendees are service provider members of the BCCPA
Significant coverage in Vancouver Sun and other province-wide media.
15,000+ direct hits on the BCCPA website for posts related to Care to Chat
All events attended by key decision-makers and leaders within BC's Continuing Care sector
*includes Annual Conference attendees
To download the outline of sponsorship proposal instructions, click here. If you have any questions, please do not hesitate to contact me directly at 604-736-4233 ext. 231 or by e-mail: hart@bccare.ca.
We look forward to receiving your proposal.
Sincerely,
Hart Dashevsky
Director of Membership Services and Sponsorships
Ph: 604-736-4233, ext.231 
Cell: 604-314-0487 
E-mail: hart@bccare.ca