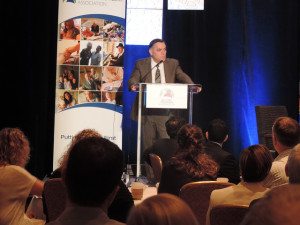 "Sustainability through Innovation" was the theme for the 2015 BCCPA Annual Conference in Whistler, BC.  The event attracted over 450 care providers, government officials and industry stakeholders who heard from an impressive list of over 60 speakers and participated in 24 thought-provoking workshops as well as an expanded Exhibitor Marketplace.
The conference kicked off on Monday, May 25th with remarks from Dr. Darryl Plecas, MLA, Parliamentary Secretary to the Minister of Health for Seniors. In his opening address, the Parliamentary Secretary spoke to the future of seniors care in BC and the need for collaboration between government and care providers. He concluded with a special announcement granting $50,000 in funding to the Health Arts Society and Concerts in Care to provide musical concerts for people in retirement, assisted living and residential care facilities. See full media release here.
"Residents and staff consistently share their appreciation for the Concerts in Care performances, as well as the way the music has the ability to calm dementia patients and resonate with those who can no longer speak," said Parliamentary Secretary Plecas. "Exposure to music, culture and socialization can greatly contribute to a person's health and well-being, especially as Concerts in Care brings music right into care facilities".
Conference Agenda
Click here for a PDF version of the 2015 BCCPA Annual Conference Agenda.
CEO Transports Delegates Into 2045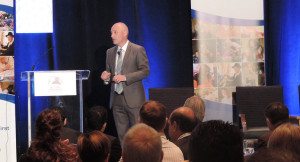 Following the address from the Parliamentary Secretary, delegates were transported into the year 2045 for a funny and interesting look into the future of seniors care with CEO, Daniel Fontaine. From 12 story care homes and RNs (Robotic  Nurses) to a world where Alzheimer's Disease has been cured and 55 is now considered "young", Fontaine delivered a captivating glimpse into how seniors care will evolve over the coming years.
An electronic version of Fontaine's presentation along with notes will be released on our website in the coming days.
Former Premier and Expert Panel Provide Insider Look At Challenges Facing Government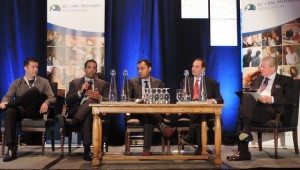 Taking the stage after Fontaine was veteran broadcaster, Bill Good to introduce and moderate a captivating panel featuring former PEI Premier, Robert Ghiz and renowned medical experts from across the country. Panelists included:
Dr. Sacha Bhatia, Director of the Institute for Health System Solutions and Virtual Care at Women's College Hospital, Evaluation Lead for Choosing Wisely Canada
Dr. Samir Sinha, Director of geriatrics at Mount Sinai and the UHN hospitals, Provincial Lead, Ontario's Seniors Strategy
Dr. Ryan D'Arcy, Professor and BC Leadership Chair in Medical Technologies at Simon Fraser University and Surrey Memorial Hospital Foundation
Before the panel got underway, Ghiz, who was co-lead of the first Health Care Innovation Working Group alongside Premier of Saskatchewan Brad Wall, delivered a passionate keynote speech about the challenges facing the continuing care sector in BC.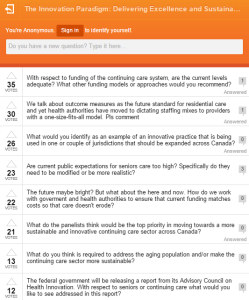 "There are a lot of innovations out there, but we just need people to work together," said Ghiz. "We [need to] get our 13 jurisdictions, ten provinces and three territories, and our federal government all at the same table together – every major national program that has ever existed in our country has had the federal government at the table – and this is a major public policy issue and I hope that in the next federal election that this will be an issue that will come to the forefront."
Check back for an inside video-interview with Ghiz in the coming days.
The morning session concluded with a panel discussion exploring the connection between research and bringing products to market. Also discussed was how we can leverage existing technologies to improve the quality of care for residents. Good moderated the dialogue with "real-time" questions submitted electronically by the audience. Using Pigeonhole technology, attendees were afforded the opportunity to submit their questions live through their smartphone, as well as vote on all of the questions to determine which were most top-of-mind.
Following the opening plenary, delegates broke off to participate in a number of diverse breakout sessions.
Fire Side Chat with CEOs of the Health Authorities
In a special Care to Chat session Dianne Doyle, CEO, Providence Health Care and Michael Marchbank, CEO, Fraser Health Authority joined Daniel Fontaine, CEO, BC Care Providers Association for a fireside chat to discuss the challenges facing the continuing care sector with an aging population, including resource and fiscal issues faced by care providers. Audience members used their smartphones to pose questions to the panelists who explored the growing care requirements for seniors as well as opportunities for greater collaboration among providers and the health authorities.
Closing Plenary Revisits End of Life in Canada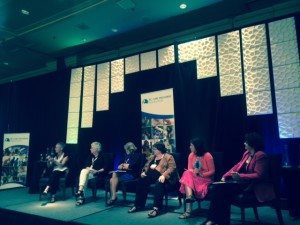 The closing plenary was titled, "Revisiting End of Life in Canada". The panel delved deep into current state of palliative care across Canada and how  the system and society should look at end of life in general. The engaging dialogue explored the need for a national strategy on end-of-life care as well as strategies to improve the integration of long-term and palliative care.
Most Successful Conference in BCCPA History
With over 450 people in attendance, the 2015 BCCPA Annual Conference has proven itself as the premiere event of its kind in Western Canada. Attracting over 60 expert speakers and over 80 commercial stakeholders, this event gathers a plurality of interests and perspectives into a single location while working towards the shared goal of offering outstanding quality seniors care.
Preparations are well underway for the 2016 Annual Conference along with plans to top this year's popular networking events.
Stay tuned as we release exclusive video interviews with many of our panelists and speakers in the coming days.
Conference Recap Video
Take a look back at this year's conference with a recap video full of exclusive interviews with some of the over 60 speakers, who provide expert opinions and analysis on a variety of issues affecting the continuing care sector.