The BC Care Providers Association hosted a Care to Chat session Monday afternoon titled: Debunking the Myths and Misconceptions of B.C.'s Continuing Care Sector. The forum was based on information obtained through a province-wide poll conducted by Insights West on behalf of the BCCPA.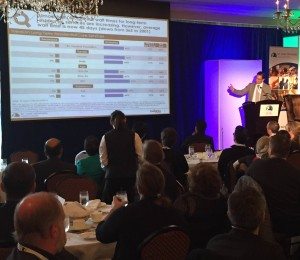 The five-person panel of experts, including keynote speaker and Vice-President of Public Affairs at Insights West Mario Canseco, crunched the number and provided in-depth analysis.
"What makes it unique is bringing in people with different perspectives," said Canseco, who worked closely with the BCCPA on the questionnaire. "I'm a data guy, so when you bring in data, it's a lot of fun to be able to look at the way people feel about things."
Joining Canseco on the panel was a group of experienced industry experts including: Colin Hansen, former Minister of Health and moderator for the session, Karen Baillie, CEO of Menno Place care facility in Abbotsford, Al Jina, President of Park Place Seniors Living and also a BCCPA Board Member and Jane Devji, CEO at Delta View Campus of Care.
The panelists were surprised with many of the poll results.
One of the more telling responses revealed that British Columbians believe care homes are allocated $69 per day on average to provide meals for residents, when in reality that number is around $6 to $7. A total of 54 per cent of those polled believe that residents' food is cooked offsite, when, in actuality, most BCCPA members expressed that they cook the food onsite themselves.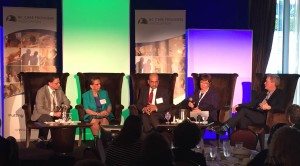 Attendees were also given a chance to pose questions and comments to the panel of experts.
"I try to come to as many as these as I can," says Dan Levitt, Executive Director at Tabor Village care facility in Abbotsford. "Getting all of these people with all of these different ideas and backgrounds and experiences all in the same room, it really makes for an interesting and well-informed discussion."
Canseco understands there is a balancing act between trying to make a point with the results of the poll and going about it in a way that will provide honest answers.
"It's a give and go," he said. "There were certain things that I recommended against and certain things that they wanted to add and that's the best way to make it happen. If you just follow the wishes of whoever wants to conduct the survey, you might end up in a situation where 100 per cent of people agree with you on everything – and that's not research. It's not necessarily about whether people agree with you at this point, it's about where they stand on most of these issues."
The poll was conducted online from March 25 to 29, 2015. 814 British Columbians over the age of 18 participated in the survey.
For a complete breakdown and analysis of the survey results or to download a copy of our new Top 8 Myths and Misconceptions document, please visit www.bccare.ca/survey/.
Click here to check out media coverage surrounding the poll and our Care to Chat session.