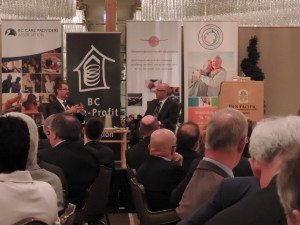 Minister of Health, the Hon. Terry Lake, addressed the seniors care sector last week at a sold out luncheon co-organized by the BC Care Providers Association (BCCPA), the BC Seniors Living Association (BCSLA), the Denominational Health Association (DHA), and the BC Non-Profit Housing Association (BCNPHA). The event was the second Annual Health Minister's Luncheon jointly held by the organizations.
Among the attendees were a number of special guests. They included a number of BC MLAs including Doug Bing, Maple Ridge-Pitt Meadows, Jane Thornthwaite, North Vancouver-Seymour, Gordon Hogg, Surrey-White Rock, Richard T Lee, Liberal-Burnaby North, and Marvin Hunt, Surrey-Panorama. Also in attendance was Reverend J. Michael Miller, CSB, and Archbishop of Vancouver.
Minister Speaks About "Puzzle Pieces" of Person-Centered Care in Keynote Speech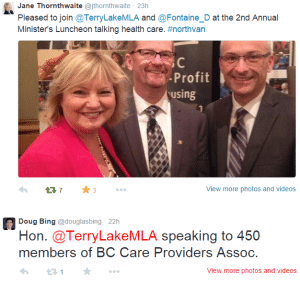 Following opening remarks from sponsors and the co-hosts, Minister Lake took to the podium to deliver his keynote address which focused on the "puzzle pieces" of providing person-centered care for BC Seniors. Lake noted how there are often cases of patients receiving acute care, when primary and community care is clearly the better option for both seniors and taxpayers. He indicated it as an area where he is hopeful to work with the continuing care sector to achieve a set of goals that mutually align.
Are Changes Coming to BC Care Aide Registry?
Within his speech, Lake also announced that the BC Government would be undertaking a careful review over the coming months of the Care Aide Registry and its effectiveness in protecting seniors. He mentioned government was consulting with the College of Licensed Practical Nurses and College of Registered Nurses to see if there is any way care aides could become self-regulated through one of these bodies. This would be a major shift from the current Care Aide Registry model which the BCCPA has noted is riddled with a number of critical deficiencies and is not doing the best job possible to protect seniors.
Following his keynote address the Minister sat down with Daniel Fontaine, BCCPA, CEO for a "fire-side" chat with "real-time" questions submitted electronically by the audience. Using Pigeonhole technology, attendees were afforded the opportunity to submit their questions live through their smartphone, as well as vote on all of the questions to determine which were most top-of-mind.
One of the most popular questions focused on the recently released Seniors Care for a Change report detailing over-regulation and red tape in the continuing care sector. Minister Lake referred to various aspects of interest within the report, with a particular emphasis on the current funding models. Lake indicated he understood how the current funding models might make it appear as though the Health Authorities are in a perceived conflict of interest when it comes to contracting seniors care beds.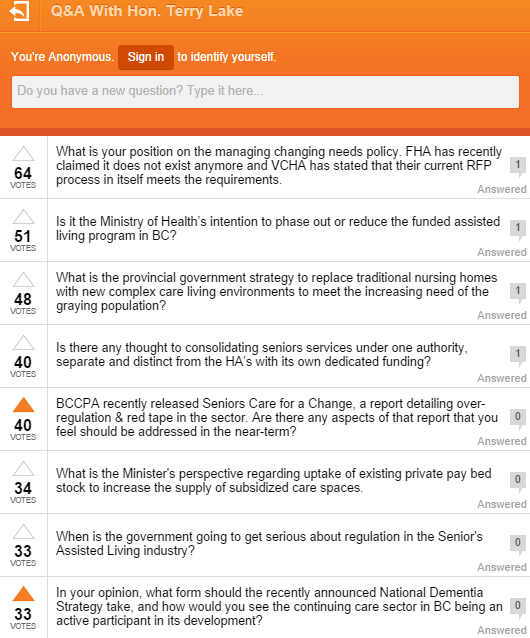 A crowd of nearly 400 attendees were in attendance for the sold-out event, which was held at the Pan Pacific Hotel in Vancouver. Plans are already underway for next year's luncheon. Lake iterated his hopes to return for the 3rd Annual Minister's Lunch in 2015, though he humorously noted the average "life-span" of a cabinet minister in any given portfolio in BC is only 18 months, and he is already on month 16.
"I'd really like to thank Minister Lake for his continued support of this great event again this year," says Daniel Fontaine, CEO, of the BCCPA. "We also couldn't have hosted the lunch without the generous support of our title Sponsors McKesson, Remedy's RX., the Tapestry Foundation and St. Paul's Hospital Foundation.
Remain in the conversation on Twitter using the hashtag #HealthMinistersLunch and tweeting BCCPA with the handle @BCCareProviders.
Don't Miss Next Care to Chat – November 13 @ Terminal City Club
Interested in attending other continuing care sector events? Join us on November 13th at the Terminal City Club as we kick off the second season of the nationally-recognized Care to Chat speaker series. Robin Gill, weekend anchor for Global National, will moderate the panel discussion titled, "Creating a Culture of Safety in BC's Continuing Care Sector: Can Anything Be Done To Reduce The Highest Injury Claim Rates in BC?".
To purchase your ticket/table for this great learning and networking event please click here.