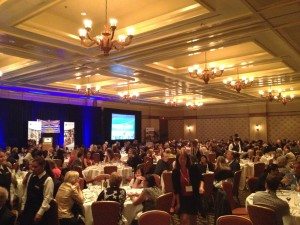 Not long after the last banner was taken down from the 2014 Annual Conference, work began on next year's event.
In June the Board appointed two directors and two members at-large to the 2015 Conference Committee. They include:
Aly Devji, Deltaview Campus of Care– Board Director
Kristan Ash, We Care – Board Director
Hendrik Van Ryk, H&H Total Care – (Past Chair of 2014 Conference Committee)
Michael Aikens– Glacier View Lodge and the Views at St. Joseph's (served on 2014 Conference Committee)
The committee held its first meeting on Wednesday, July 9, 2014. A number of commercial members expressed interest in participating in the committee. The committee appointed Alex Jones, Heritage Furniture, as one of two commercial representatives.
The conference title sponsor (which will be determined through RFP this summer) will have the opportunity to put forward one additional name to participate in the committee starting in September.
The committee has decided that every effort should be made this year to accelerate the process of seeking sponsorships and opening up our exhibitor/delegate online registration system. As a result, this should start taking place early this fall.
It was also decided to freeze the conference fees in 2015 for all BCCPA service provider members.
A total of six members (4 service provider/2 commercial) will form the committee. We have a great team and I am confident we can build on the success of this year's conference and make 2015 even more memorable.