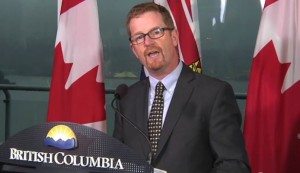 The BCCPA has met with Minister of Health Terry Lake and many of his key senior advisors over the last several months. He continues to keep an open door policy with us and has demonstrated a willingness to work with us in a collaborative and respectful manner.
While we may not always agree on every issue, Minister Lake clearly understands that BCCPA members are the solution – not the problem.
At a news conference whereby he unveiled the recommendations related to the recent FHA review, the Minister told the media:
"When you look at the number of residential care beds that are available for the population, the community services that are available to keep people in their homes longer and healthier, the resources aren't being devoted there because so much is being devoted to hospitals…It's a matter of rebalancing and making sure we're not over reliant on the acute-care system. And the acute-care system has some inherent problems in Fraser Health, in terms of quality."
Providing continuing care is our business. It's what we do best.
That's why we have emphasized to government that we are a cost-effective and innovative service provider that can address many of their short and long-term needs. It's good to see they are listening to that message.
With the recent headlines regarding overcrowding at the new Surrey Memorial Hospital, it is hard not to believe our members could be of assistance.
By placing patients who occupy $1000+ per day acute care beds into more cost efficient and appropriate care, we can easily develop a win-win situation. Taxpayers more effectively utilize health expenditures, while seniors get access to the proper care that is proven to deliver better outcomes.
In the process of preparing the Seniors Care for a Change report, it became abundantly clear the formal mechanisms for two-way dialogue between our sector and government must be improved.
We need to move beyond individual personalities and develop a feedback and consultation structure that is sustainable, solution-oriented and supports the early detection of emerging issues.
Over the course of the next several months, the BCCPA will pursue this issue further with the goal of establishing a new platform for ongoing dialogue with the Ministry of Health and the Health Authorities. We will keep you posted if there are any new developments.