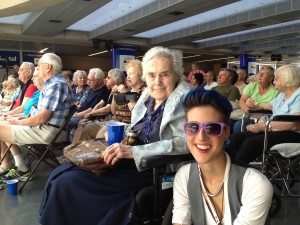 Earlier this summer, over 250 seniors living in residential care and members of the public gathered at Robson Square to enjoy "Summer Showcase". The free, live public concert was developed as a partnership between the BC Care Providers Association (BCCPA) and the Health Arts Society (HAS). Summer Showcase is a production of Concerts in Care, which is operated by HAS.
BCCPA members deliver numerous unique and innovative recreational programmes in care homes across the province. Concerts in Care has proven to be popular among residents and their families. With over 6000 Health Arts Concerts performed in care homes throughout B.C., this free Concert in Care performance allowed members of the public to experience what BC seniors have enjoyed for years.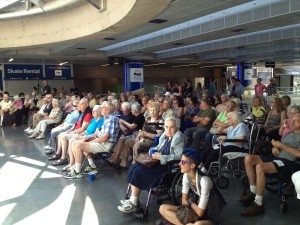 "Arts and culture create meaningful, joyful experiences for people of all ages. I congratulate the BC Care Providers Association and Concerts in Care for ensuring that senior citizens can continue to enjoy music, art and cultural activities as part of a rich, full life," said B.C. Minister of Community, Sport and Cultural Development, Coralee Oakes. "Senior citizens play a vital role in strong families and communities throughout British Columbia. The Robson Square concert offers a great opportunity to celebrate the outstanding service Concerts in Care provides to enrich the lives of seniors in B.C."
Since 2009, over 640 concerts have been performed live at BCCPA member care homes across the province, with 369 of those programs funded by the Health Arts Society.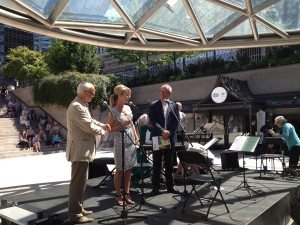 "Our government values seniors and recognizes the importance of keeping them engaged and connected with their communities," said Parliamentary Secretary for Healthy Living and Seniors Michelle Stilwell. "Concerts in Care performances are one of the many ways that the BC Care Providers Association works to improve the quality of life and care for seniors throughout the province."
"In a person-centred care model, social enjoyment and interaction are very important components that contribute to quality of life in residential care homes" says David Cheperdak, BCCPA President. "The BCCPA is pleased to partner with Concerts in Care to help put this understanding to action and bring live musical performances to residential care homes across the province."
At the Summer Showcase, BCCPA member Retirement Concepts also announced it would be bringing over 170 Concerts in Care to 18 of their care homes across B.C.
For more information on Concerts in Care, please visit here.