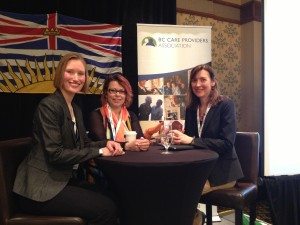 BCCPA continues to support the establishment and activities of SafeCare BC. Back in 2012 we filed an application with WorkSafe BC to set up a new safety association for the long-term care sector. In 2013 the application was approved. Earlier this year a new SafeCare BC non-profit society was set up and a new Executive Director (Jennifer Lyle) was hired.
Activities are beginning to ramp up over the coming months. SafeCare BC announced a special partnership with the BC Alzheimer Society to put on a workshop Creating Connections: Working With People with Dementia. The workshop is taking place in Burnaby in September and it sold out within about a week. Additional workshops will be coming on stream over the coming months.
In November, BCCPA will focus our opening Care to Chat panel discussion on the topic of worker safety in the long-term care sector. One of the keynote panelists will be Jennifer Lyle. More details regarding this event are forthcoming in August. Check back to our website or sign up for our e-newsletter to ensure you get the latest information.