After 26 years at CKNW, veteran talk show host Bill Good is retiring from his daily show on the radio station.
Earlier this year Good moderated a sold out Care to Chat panel disccusion titled, Big Brother in Seniors Care: Surveillance Technology, Ethics and Privacy. Featuring Michael McEvoy, B.C. Information and Privacy Deputy Commissioner as key note speaker, the session explored surveillance technology such as hidden video cameras and GPS tracking of residents in long term care.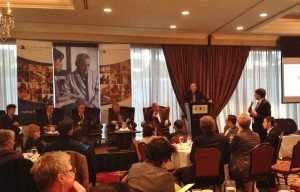 Over the past year, the Bill Good Show has broadcasted a number of segments featuring issues surrounding seniors and the continuing care sector. Good has frequently welcomed the BCCPA onto the air as a respected thought-leader and to provide professional insight regarding issues in the sector. In fact, you can catch BCCPA CEO, Daniel Fontaine, on the Bill Good Show tomorrow morning, July 17, from 9:30am-10:00am speaking about the Seniors Care for a Change report. Listen live here.
"Over the years, Bill has demonstrated a vested interest in the seniors of BC and success of our continuing care sector," says Daniel Fontaine, CEO. "We thank him for his years of on and off the air support and wish him all the best for the future."
In a segment just last month, Good explored the questions, "Are seniors living their golden years at the expense of younger generations?" and "Are young people footing the bill for their senior counterparts?"
Listen to the full segment here:
See below for another notable BCCPA featured segment on the Bill Good Show, as well as more information on his retirement in an article from the Vancouver Sun.
 +++

June 14, 2013– A number of media reports over the last week have been reporting on the $25 per month rental charge for wheelchairs by regional health authorities. The Bill Good Show on CKNW radio contacted the BC Care Providers Association to provide their reaction to the story. On Monday, guest host Michael Smyth and BC Care Providers Association CEO Daniel Fontaine discussed the issue on air. If you want to hear the broadcast, click on the media player below.
+++
Bill Good retiring after 'terrific run' on daily CKNW show
VANCOUVER — After 26 years at CKNW, Bill Good is retiring from his daily show on the radio station.
His last day on air is Friday, Aug. 1.
"Bill is an icon and has been a very important part of our fabric for more than a quarter century," said Ian Koenigsfest, brand director, AM programming for Corus Radio Vancouver.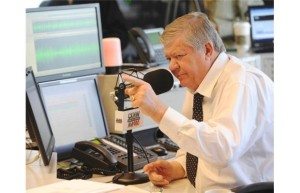 "He's retiring from his daily show on CKNW. I guess after 26 years, I don't want to use grind in a negative way, but it's a lot of work being on the air from 8:30 to noon. He's had a terrific run."
Koenigsfest told staff at CKNW about Good's retirement today at 2 p.m. Good is expected to comment on his show Friday.
Good joined CKNW in August, 1988 from CBC Vancouver's Evening News where he was co-anchor with Cecilia Walters. Good had been with CBC for 21 years. He began in radio where he hosted a morning show and then moved to sports and then the news division. He anchored the evening news for 11 years.
Good is from a media family. His father Bill Good Sr was a nationally recognized sports reporter with CBC radio; his brother John worked for CBC Sports in Toronto and with radio CJOR and CKVU in Vancouver.
When he moved to CKNW, Bill Good replaced talk show host Rafe Mair who moved to the morning slot to replace Gary Bannerman.
Earlier this month, Philip Till announced he was leaving the station after a decade hosting the Morning News from 5:30 am to 8:30 am.
"The timing is quite coincidental," Koenigsfest said about the two broadcasters leaving the station.
He said CKNW remains committed to the news talk format.
"There will be no format change," he said.
Koenigsfest said finding a replacement could take weeks or months.
"We have some amazing talent in the building. My job is to look everywhere," he said.
"We have had great talk show hosts leave before and my job is to make sure we fill the roster with the best possible talent and remain relevant, credible and provide compelling programming."