Kevin Falcon, former Deputy Premier and Minister of Health in British Columbia, has agreed to moderate the opening plenary discussion at our 37th Annual Conference being held in Whistler on May 25-27th. The session is titled National Dementia Strategy: What are we waiting for?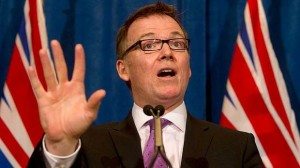 The discussion will have a number of prominent panelists including Dr. Diane Finegood, President & CEO, Michael Smith Foundation for Health Research, Claude Gravelle, Member of Parliament (Nickel Belt),  Mimi Lowi-Young, CEO, Alzheimer Society of Canada and Dr. Chris Simpson, President – Elect, Canadian Medical Association.
"I am pleased to be attending the upcoming BC Care Providers conference and moderating the opening plenary session," says Falcon. "They have appropriately kicked off the conference focusing on the issue of developing a national dementia strategy. Who better to lead that discussion than the those providing the front-line care."
Other current and former politicians participating in the conference include MLA Linda Larson, Parliamentary Secretary for Seniors and Colin Hansen, former Deputy Premier and Minister of Health.
"It is great to see someone of Kevin Falcon's calibre and background participate in our conference and be part of our renewal," says Daniel Fontaine, CEO for the BCCPA. "Developing a national dementia strategy is critically important for our country and we're pleased to have someone with his background and expertise help bring focus to that discussion."
We are also pleased to announce that as of the March 31st early bird cutoff, we had already surpassed the total number of residential care and home care provider delegates who attended last year's conference by over 30%. Therefore, if you don't want to be disappointed, we encourage you to register for the conference now before we are sold out.
For those of you who have already registered and were unable to select a concurrent session due to the fact it was full, we have opened up a few more seats in each session. Therefore, you can now log in to CVENT and change your selections – space permitting. We look forward to seeing you at the conference for what is shaping up to be a great discussion on a variety of topics!