On March 21, 2014, the Vancouver Sun published a story on intimacy and sexuality in care homes. Reporter Tara Carman tackles the complex issue of intimate relationships, particularly among residents with dementia, as well as the need to identify and support the needs of LGBT seniors. As mentioned in the article, the BCCPA will be discussing these issues at our April 8th Care to Chat. A few tickets are still available. To register, please click here. 
________________________________
B.C. care homes address touchy subject of sex
By Tara Carman, Vancouver Sun  March 20, 2014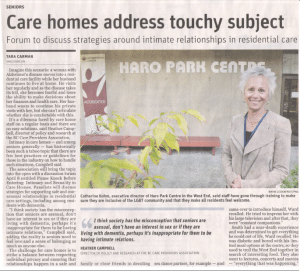 Imagine this scenario: a woman with Alzheimer's disease moves into a residential care facility while her husband continues to live at home. He visits her regularly and as the disease takes its toll, she becomes fearful and loses the ability to make decisions about her finances and health care. Her husband wants to continue his private visits with her, but she can't articulate whether she is comfortable with this.
It's a dilemma faced by care home staff on a regular basis and there are no easy solutions, said Heather Campbell, director of policy and research at the BC Care Providers Association.
Intimacy in care homes — and among seniors generally — has historically been such a taboo topic that there are few best practices or guidelines for those in the industry on how to handle such situations, Campbell said.
For the full article, please click here.
© Copyright (c) The Vancouver Sun