"An alarming statistic is that the number one cause of death in long term care facilities is acquired pneumonia," says Dr. Natalie Archer, a Toronto dentist. With more than four million people in Canada needing the help of someone else to care for their teeth, confidence and training are critical – and Dr. Archer is committed to improving both.
"A number of people taking care of other people, such as personal support workers, nurses, family members, caregivers, don't have the education, the tools, training, and such, the confidence to actually take care of one another's teeth properly or with best practices," says Dr. Archer.
More Training Needed
Expressing her appreciation for the nursing profession, Dr. Archer explains that nursing students receive minimal oral hygiene training – as little as half a day. This creates a culture of unknown and uncertainty, particularly when new nurses start working in a care home with older adults.
Through a series of videos, Dr. Archer gives tips to increase confidence, awareness and education levels among caregivers helping others with their oral health.
Dr. Archer emphasizes that every patient has the right to a well-hydrated, pain free, infection free and clean mouth. As the mouth is the primary portal to our body, Dr. Archer argues that "you cannot have a healthy body without a healthy mouth."
Taking the Bite Out of Elder Abuse
Dentists, and other care providers, can play a key role in identifying and responding to situations of poor oral health.
Poor or neglected oral health can be a form of elder abuse. Dental elder abuse can cause pain, suffering and illness for older adults, and it can lead to cases of preventable death.
To raise awareness of dental neglect, or elder abuse from a dental perspective, Dr. Archer developed a project called D.E.A.R.: Dental Elder Abuse Response.
The project is in partnership with the Canadian Centre for Elder Law and National Initiative for the Care of the Elderly, and funded through a small community-based federal grant from the New Horizons for Seniors Program – Employment and Social Development Canada.
D.E.A.R. created the first materials in Canada which link dentists, caregivers and older adults together on issues of abuse and neglect. The practical, evidence-based and expert materials help to recognize and prevent dental elder abuse and neglect. The materials also help start the conversation about advance care planning related to dental issues.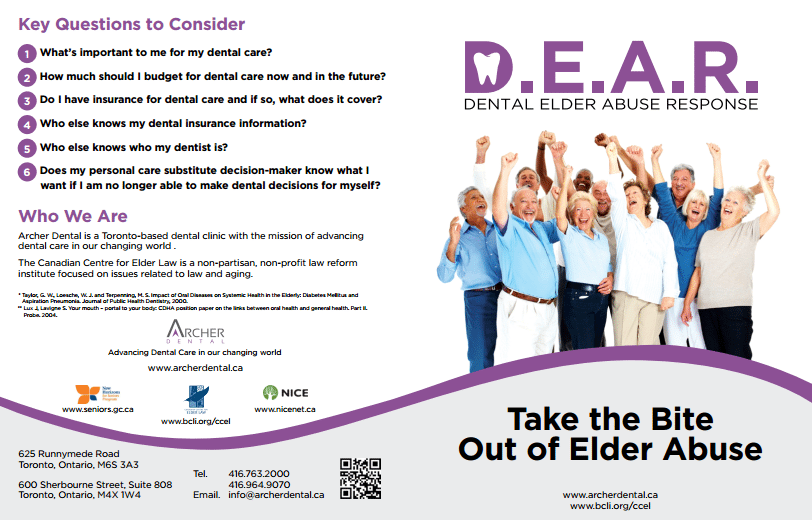 To learn more about D.E.A.R. and to download the materials, please visit Dr. Archer's website. You can also follow Dr. Archer on twitter @archerdentalca.