BC Care Awards Generate Twitter Talk
Over 140 MLA's, BCCPA Members, and stakeholders gathered last evening in Victoria for the inaugural BC Care Awards. Health Minister Terry Lake was the keynote speaker and presented the three awards to each individual recipient, Louise Johnson, Jane Devji, and Karen Mac. The delegation day and awards event was the first of its kind for the BCCPA and it generated an incredible response.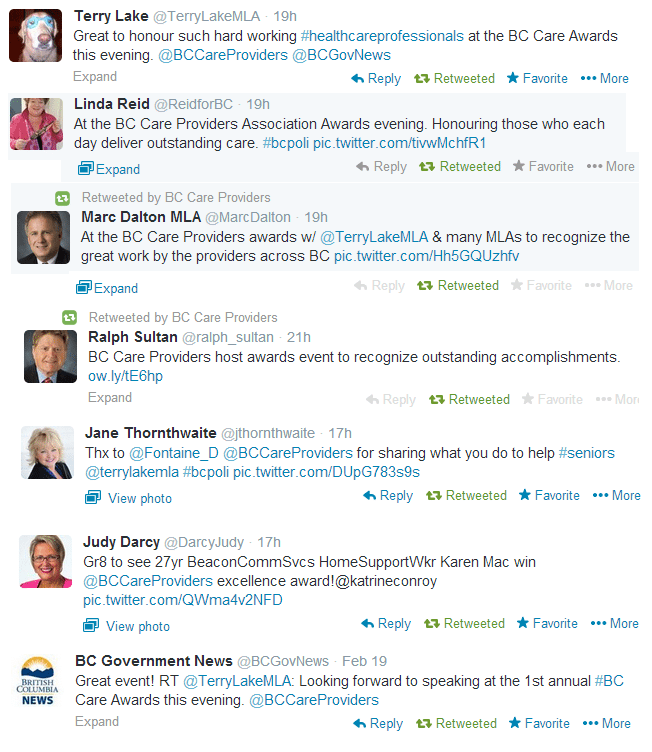 One of the highlights of the evening was an outstanding performance by Concerts in Care, an organization which has delivered over 8000 professional concerts to residential care homes and health facilities. The concert featured a pianist accompanied by a strings quartet.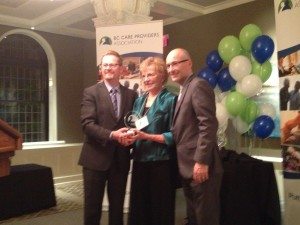 Following the performance, Dave Cheperdak, BCCPA President invited Health Minister Terry Lake to join him on stage and present the awards. As the evening progressed, the deserving recipients were given their awards and each provided heartfelt and inspiring gratitude.
 "Last night was about three exceptional individuals and the renewal of our Association," said Daniel Fontaine CEO. "Each of them go far beyond what is expected of them and they epitomize what it is means to be a care provider."
Out of the three recipients, Louise Johnson, Administrator and Accreditation Coordinator for Park Place Seniors Living, took the stage first for the Innovation of the Year award.  Louise was recognized for integrating an ethical decision-making framework in a client-centred care model at Park Place's Spring Valley Care Centre in Kelowna. After intensively researching various ethics frameworks, Louise led the development of an easy-to-read ethics manual that "makes sense" for front-line-staff. Louise took the podium to express her deep appreciation for those she works with at Park Place Seniors living.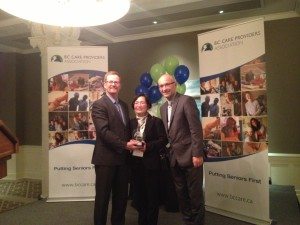 Next was Karen Mac, a dedicated and compassionate Community Health Worker with Beacon Community Services. For over 27 years, Karen has provided exemplary care to each and every client she sees. Known for her positive attitude and going out of her way to assist clients and her fellow co-workers, Karen was awarded the first ever, BC Care Provider of the Year Award.
The final recipient to take the stage was Jane Devji, receiving the Ed Helfrich Long Service award. Referred to by her staff as Mrs. D, Jane has delivered over 40 years of service in health and long-term care. She is currently the administrator of Delta View Habilitation & Life Enrichment Centre and a wonderful inspiration to the staff, residents and their families. Although Jane showed a humble demeanor as she thanked her colleagues and family for the award, those that work with her are well aware of here relentless drive and ambition. Jane has supported the BC Alzheimer's Society by climbing one of the world's tallest mountains – Mt. Killimanjaro – not once, but several times. At 72 years old, Jane impressively made her 3rd ascent this past October.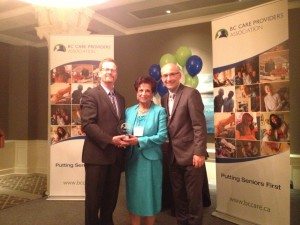 "The continuing care sector in BC is a community of truly remarkable and passionate individuals," said Fontaine. "These awards are an opportunity to recognize just a few individuals who have stood out to their friends and colleagues."
Earlier in the day, a delegation of Board directors, senior BCCPA staff, front-line care providers and family members of those in care visited the BC Legislature. They held a series of meetings with Minister Lake, government and opposition MLAs to discuss issues pertaining to the continuing care sector.
While the delegations were in the Legislature, they attended question period. Lake and Judy Darcy, NDP Opposition Health Critic, took the opportunity to recognize the Association's work to support seniors care. What follows is a transcript from the official hansard:
Hon. T. Lake: I rise in the House today to introduce members of the B.C. Care Providers Association who are in the capital for their first-ever B.C. Care Providers Association awards. Daniel Fontaine, Andre Van Ryk, David Cheperdak, Isobel Mackenzie, Kristi Osguthorpe, Ted Semmens Jr., Heather Campbell, Annette Elieff, Maureen Parks, Jennifer Lyle, Elaine Price and Al Jina are dedicated men and women and part of a group which, for over 35 years, has continuously worked to improve seniors care throughout the province of British Columbia. Would the House please make them feel very welcome.
Judy Darcy: I'd like to join with the Minister of Health in also welcoming the B.C. Care Providers Association today on behalf of my colleagues and myself who met with them. What was especially wonderful about the delegation — and this is sometimes unusual — is that it was a combination of CEOs and executive directors as well as family members and front-line care staff. I just want to pay tribute to all of them, because it takes very, very special people to care for what is some of the most important work in our society, and that's caring for our seniors and caring for them so well.
Planning is already underway for next year's delegation day and awards ceremony. We encourage you to submit your nominations for the 2015 BC Care Awards today!