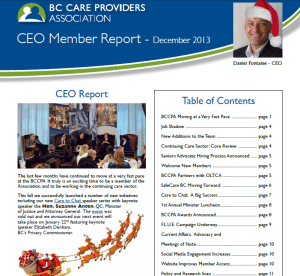 With 2013 coming to an end, we are proud to reflect on the many achievements of the past year. From growing our digital presence, to establishing the inaugural BC Care Awards much has been accomplished, and we are excited to see what 2014 holds in store!
A few of the featured stories include:
Social Media and Online Progress
F.L.U.E Campaign
BCCPA Awards
Care to Chat Speakers Series
Launching of SafeCare BC
Minister Luncheon
And Much More!
If you are a member and want to read a copy of the report, click here. We also extend a big thanks to Westland Insurance and Rexall Specialty Pharmacy for supporting this publication through their advertisements. The next CEO Member Report will be published in February.