BC Care Providers CEO, Daniel Fontaine, discusses the F.L.U.E. campaign with CKNW.
The F.L.U.E. awareness campaign is aimed at reminding people that hand washing before visiting friends and relatives in residential seniors care homes, is the first line of defense against spreading the flu.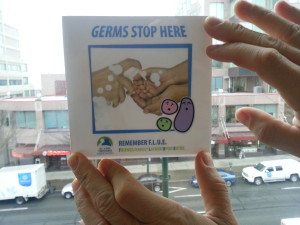 "People often think when they go to a care home they are going to catch something, but in reality they are often bringing in things [the flu] themselves." – CEO Daniel Fontaine, BC Care Providers
Listen below!

With over 100 complimentary stickers ordered in just 24 hours, the campaign is off to a great start. If you are a BCCPA member don't miss this opportunity for complimentary stickers! (Shown above) 
Learn more about the F.L.U.E. campaign and order your complimentary stickers here.