The BCCPA regularly highlights the excellent programs and services offered by our members. As part of this ongoing series, we are pleased to share a submission provided to us by our member Revera Living.
+++
The 'Grouse Grind' Program challenges the entire community (residents, families and staff) at Capilano Care Centre to collect steps over a specified period of time in order to travel up Grouse Mountain. As residents work through the challenge they track their progress on a large Mountain chart displayed where residents, families and staff can easily view and access it.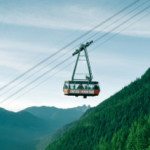 One of the more common challenges for residents in long term care is immobility, which can result in physical complications, feelings of isolation, anxiety and depression. While many people assume that immobility is a natural consequence of ageing, research studies have shown that elderly have a much greater potential for mobility than previously believed. If you'd like to implement the Grouse Grind Program at your care home, here is how to do it!
PROCEDURE
Invite residents to participate on the walking/stair climb.
If possible, prepare list 24 hours in advance for large groups. Spontaneous walks are permitted. Sign-out residents or post outing sheets at the appropriate nurse's station.
Walking groups range from 2-8 residents. There will be a mandatory two staff present at all times.
Finalize list with RN, 10 minutes prior to departure and revised list given to nurse's station and Recreation Manager, indicating time of arrival back to care home.
Staff to assess residents and to choose residents that can climb the stairs. This assessment will be confirmed by the nursing staff, physiotherapy and rehab.
Residents dressed appropriately for outing, such as hats, sunglasses, etc. 
Welcome residents on the Grouse Grind challenge and explain where the steps are and what the challenge is.
First time residents will be assessed on the stairs and individual goals will be developed.
Engage in descriptive conversation or singing with residents.
Resident selection for this program will be based on the interdisciplinary assessment and resident choice.
Collaboration and communication about the program shall be shared with the resident, family and interdisciplinary team.
Documentation of the program will be completed on the tick sheets, focus 1:1 notes, and / or progress notes as appropriate.
Significant events during the program will be communicated to the appropriate supervisor.
PROCESS
Determine the time frame: 3 months.
Determine which residents will participate: This was accomplished by speaking to all disciplines and distributing a one page document outlining what the challenge entailed. Also information was put up on the white boards, which are located on all floors.

Tracking Sheets: Climbing boards will be created in the shape of stairs. Each resident that participates will get their picture taken. The headshots will be put on mountain climber bodies then laminated, cut out and the back will have Velcro glued onto it. Once the residents have completed stairs during the week then their mountain climber will move up to the next step. If the resident didn't participate during that week, then their mountain climber will stay where it is.
An excel sheet will be created to track all the steps taken by each participate. At the end of all the weeks there will be a celebration, staff will make ribbons to hand out with the total number of steps taken by that resident. The staff will hold an awards ceremony with drinks and snacks. Also there is an outing to Grouse Mountain for lunch with all the participants. Your recreation manager can apply for the community rate for a discounted admission.
GOALS
To increase strength and endurance
To achieve a sense of accomplishment
To increase socialization and group dynamics
To stimulate memory
To stimulate a sense of independence
To stimulate different sites, sounds and smells
Benefits of Walking and Stair Climbing:
Improvement of cardiovascular function and possibly a reduction in the chances of having a heart attack
Potential weight loss or weight control
Reduction in blood pressure
Has been found to be helpful in the prevention and treatment of depression
Has a positive impact on the health of people with diabetes
Helps build endurance and muscle strength
Helps build and maintain bones and muscles
To improve transferring abilities for individuals in wheelchairs
This is a great, active, restorative program that the residents enjoy and see results. During the party at the end of the summer each resident will receive a certificate with how many stairs they completed. It gives the residents a sense of accomplishment and help builds strength, endurance, self-confidence, self-worth and relationships.
– Written and submitted by Chris Mitchell, Executive Director, and Alana Amaroso, Recreation Manager at Capilano Care Centre located in North Vancouver.