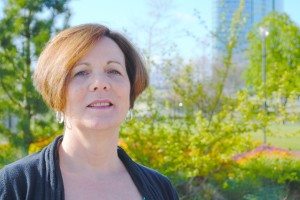 Raised by a single mother, Yvonne Wallace was encouraged from a very young age to show compassion to those in need and offer assistance however you can.
"Whenever there was somebody that needed something, they came to our house," she explains. "It was just the way I was raised."
 
As the Client Service Coordinator for the new Acquired Brain Injury Program for Saint Elizabeth in Vancouver, Yvonne helps to connect those Community Service Workers with clients with brain injuries. She focuses her job around helping the diverse group of clients find an ideal match within a worker who can assist them with integrating into the community.
With experience in the healthcare industry since 1979, Yvonne began as a community health care worker and brought her skills to B.C. when she moved to Surrey from Ontario. She began working at the Langley Lodge and fine-tuned her skills working with clients over the next few years.
After volunteering in the activation department of the facility she found that she really enjoyed her work with the organizational side of the industry. Changing to a position as a coordinator of an adult day program challenged Yvonne to a leadership role and showed her she had strength in that area.  She decided to accept a further challenge and go to school.
After completing a Bachelor of Arts in Sociology and Psychology with a Major interest in Gerontology at Simon Fraser University, she decided to venture out onto her own as a consultant for a few years.
 
Taking a position as a supervisor in home support with her current company; Saint Elizabeth, allowed her to join a close knit company she could grow with. Her experience within numerous areas of the company allowed her to oversee the type of work required within different types of care.
When asked what the most rewarding aspect of her career is, Yvonne described the satisfaction within her role.
 
"Being able to give a client, regardless of what their needs are, what they really want, whether it's somebody to spend some time with them, somebody to help them do something that is really meaningful or just seeing that they finally have some relief," she explained. "All the clients that I've worked for  just want a voice and acknowledgement of their human dignity. Being able to provide that for them is really the most wonderful thing that I can do."
 
Being surrounded by strong teams of people and being a strong leader allows Yvonne to remind her team members how appreciated they are within their roles. Working with clients in their homes can often feel very detached from a team of workers as you are not clustered together, but she enjoys the challenge of making her teams feel valued.
 
"I feel really happy when my teams feel like they are doing a good job," she said. "I get very close to my teams.
 
Her organizational skills find her wearing a number of hats within her role. While the majority of her time is spent taking care of the communicative and https://bccare.ca/wp-content/uploads/2022/08/medcare-img22.jpgistrative aspects of her teams, she does go out to set up the service between the client and their care worker.
Acting as a contact for the clients, she focuses her time on making sure that their needs are met. Through quarterly reviews and maintaining a relationship with the clients, Yvonne can address client concerns and keep both the worker and the client happy.
Yvonne had some great advice to those entering the industry. She said that learning time management needs to be a primary focus. Those who aren't sure if they would be a good fit for the senior care sector should make sure they are happy and love doing it. Being successful within this field means enjoying what you do and finding happiness doing the sometimes stressful work.
 
As a very proud grandmother of four, Yvonne loves family and travelling with her husband.
 "I have a really good life. It took a long time to get here but I have a really good life."
– Written by freelance writer Angie Holubowich for the Seniors Care HR Planning Committee. Funding for this project was provided by the Canada-British Columbia Labour Market Development Agreement