The Care Quarterly has been a regular form of communication for the BCCPA for the better part of the last decade – but the Summer 2013 edition will be our last.
Ceasing production of the CQ will not only lessen the impact to the environment, it will also help to reduce costs and afford us the opportunity to strengthen our online communications.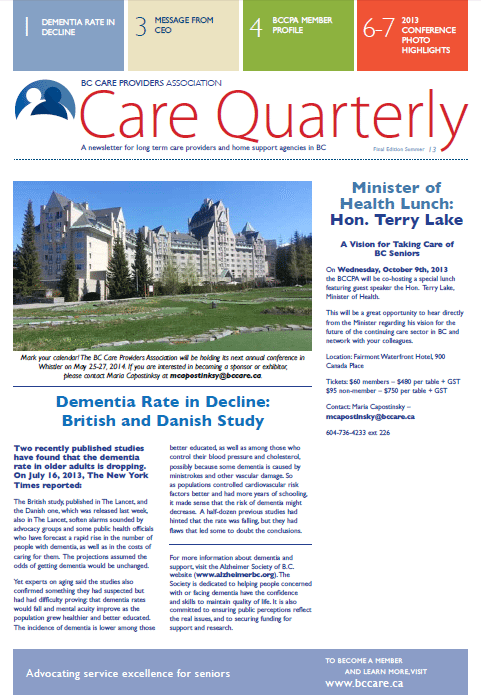 In May we launched a redesigned website including several new social media channels such as Facebook, Twitter and LinkedIn. In only eight short weeks, we have been able to deliver some amazing results:
We have written 60+ new posts on a range of topics. There were over 11,000 page views from 4,700+ unique visitors (3,600+ first time visitors and 1,100 returning visitors)
Our LinkedIn group already has 70+ new members
Our new e-newsletter signed up almost 100 new subscribers
Over 150 separate tweets have been sent out on a variety of topics since May 1st from our @BCCareProviders account
Our new YouTube channel generated over 800 unique views of the videos we've developed.
Our world is changing, and so too should the way we communicate with our members and the public. The CQ served a useful purpose in helping to keep the continuing care sector informed on issues of concern – but it is no longer capable of keeping up with our modern 24-7 wired world.
Despite the phasing out of the CQ, the BCCPA is committed to keeping you up-to-date regarding the key issues facing the sector each day. That's why if you haven't already done so, We'd encourage you to seek out one of the following opportunities to keep in touch with us:
Sign up for our e-newsletter at www.bccare.ca
Read the CEO Member Report (Members only)
Join our LinkedIn group
Follow us on Twitter "Like" us on Facebook
Read our website "In The News" and "Feature Story" section
Thanks again for reading CQ over the years and we look forward to better communicating with you online!