Last week the Board of Directors held a special two-day strategy meeting in North Vancouver to discuss the future direction of the BC Care Providers Association. The meeting covered a number of topics including the renewal and update of our strategic plan.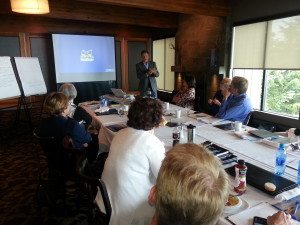 "The Board understands this is a time for renewal which affords us the opportunity to look ahead," says Daniel Fontaine, CEO for the BCCPA. "A number of identified priority issues such as revamping the Care Aide Registry, funding pressures and reducing red tape were discussed. The revised plan will also include some exciting new initiatives to be launched over the coming year that will help us further improve the quality of care for seniors and grow the organization throughout the province."
Part of the strategy session included a review of the Action Plan recommendations that were forwarded to the Minister of Health in 2012 for her consideration.
"We very much look forward to working with Premier Christy Clark, her cabinet colleagues and MLAs to ensure we continue delivering high quality seniors care for the best value for each tax dollar invested," says Fontaine. "That's why we will be reaching out to Health Minister Terry Lake and MLA Linda Larson, Parliamentary Secretary for Seniors, to explore new partnership opportunities."
NOTE: On Friday, June 21st, the BCCPA will be holding a special roundtable with non-member not-for-profits working in the continuing care sector. If you would like to attend this session, please contact dfontaine@bccare.ca before Thursday, June 20th.