How long have you been a care worker?
I became a seniors' care worker fresh out of high school.
With what tasks do you typically assist seniors?
We help them do their personal needs, and we [help with] their bathing as well.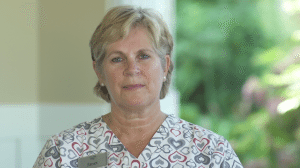 What are some rewarding aspects of your work?
The most rewarding part of my job is just coming into work every day and seeing that everyone is still there, and they're happy.
We just had our three days off, and I came into my resident's room and she looked at me and she said, "I thought you quit!" and I said, "No, I'm not, you haven't gotten rid of me yet!" She started to snicker and just a little thing like that is really rewarding to me, to hear that she missed me.
I have a [client], he was singing in a quartet, and I used to do that too. So when he's off into his own little world, I just start to sing, and he starts to sing with me. It's very rewarding because we can do something like this together. It makes him totally relaxed and comfortable in his environment.
What are some of the challenges you face?
Every day is a new day for [elderly clients], and some days are really good and some days are not so good.
Why do you enjoy your work as a CHW?
It's an honour to do this job. You need to respect them for who they were, and who they are today, and so it's an honour for me to be able to take care of these people.
– This interview was originally written in 2012 as part of the "Thank you Campaign" organized by the Seniors Care HR Planning Committee. Funding for this project was provided by the Canada-British Columbia Labour Market Development Agreement.