New to BCCPA's Annual Conference?
Read about our recent successful Annual Conferences in Whistler.
Join us in 2017 for our 40th Annual Conference and Celebration at the Fairmont Chateau Whistler! We have added one more day to the conference to celebrate and allow for the most comprehensive program to date!
The conference theme is "Providing 40 Years of C.A.R.E: Collaboration, Achievement, Research and Excellence". We are anticipating a record turnout next year so do not delay in registering as spots are limited.
Click here to view our Agenda at a Glance.
Registered delegates will receive a complimentary copy of our keynote speaker and panelist Dr. Danielle Martin's new book Better Now: Six Big Ideas to Improve Health Care for All Canadians.
Delegate Registration
BCCPA member delegate $840
Non-Exhibiting Commercial Members: $1440
Non-Members: $1540


Angel Accessibility | 2017 Title Sponsor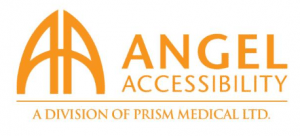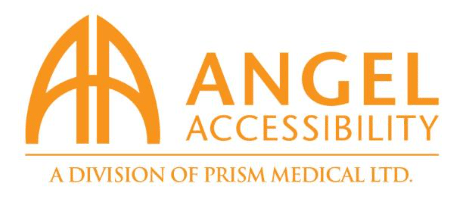 We are pleased to partner with  Angel Accessibility again as the Title Sponsor for the 2017 Annual Conference. As part of their sponsorship, Angel Accessibility is making an exclusive offer by offering preferred pricing to all BCCPA members for one year on all equipment, track, sling, and preventative maintenance sales as of November 2016. Substantial savings could subsidize the cost of membership! Be sure to contact your local Angel rep for more information.
Tradeshow
Our trade show is now SOLD OUT! Commercial members interested in attending the conference may register as a 'non-exhibiting commercial member' by clicking here.
Advertise in our Commemorative Program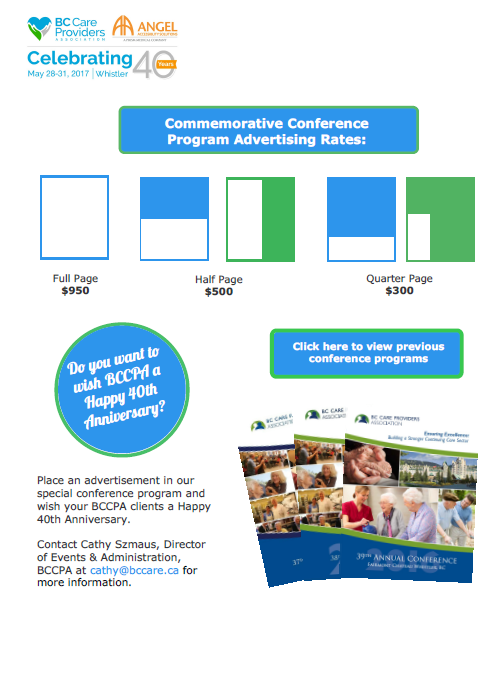 Place an advertisement in our special conference program and wish your BCCPA clients a Happy 40th anniversary.
Click here to find out the advertising rates.
Sponsorship Opportunities
Our Platinum, Gold, Silver, and Conference Sponsorship packages are now sold out, however many exciting sponsorship opportunities remain for the pre-conference BCCPA Annual Golf Tournament.  New packages at various price points are available to showcase your goods & services and can be found in our Golf Tournament Sponsorship Prospectus.
Book Now | Fairmont Chateau Whistler
The Fairmont Chateau Whistler offers our delegates discounted hotel rates are available during the conference, as well as three days prior and post the event for those who wish to stay in beautiful Whistler for a bit longer. Hotel reservations can be made by clicking here or by calling the in-house Reservations Department at 1-800-606-8244 to make their reservations.  Callers should identify themselves as being part of the 'BC Care Providers Annual Conference' or group code '0715BCCA_001' in order to receive the group rates. As these group rates are limited book early to avoid disappointment.
Transfer & Activity Discounts
We are pleased to partner with Tourism Whistler to offer you discounts on transfers and activities. While you are here, why not try something that you have never done before? Whistler offers endless opportunities for all kinds of unique experiences and adventures. Play hard, rest easy, wine and dine, attend an event, explore the arts, shop non-stop, commune with nature, or find the ultimate adrenaline rush. The big question is where do you want to start? Click here to explore the opportunities.
Speaker's Page
If you are a conference speaker, keynote, or panelists, you can view our helpful speaker's page which includes tips and guidelines to facilitate your presentation. Click here.
Educational Partners

MAINTENANCE OF CERTIFICATION                                          Attendance at this program entitles certified Canadian College of Health Leaders members (CHE / Fellow) to 14.5 Category I credits toward their maintenance of certification requirement.

CSNM CE                                                                               Attendance at the following sessions will earn CE points.
This Conference is made possible with the support of the following:
Title Sponsors
Platinum Co-Sponsors
Gold Sponsors
Silver Sponsors