On this page: Conference – Care to Chat – Online Promotions – Web Ads – Why BCCare.ca?
Annual Conference Sponsorships
The BC Care Providers Association Annual Conference will be held May 27-29, 2018 in Whistler, BC at the Fairmont Chateau Whistler. Please find our 2018 Sponsorship Prospectus here.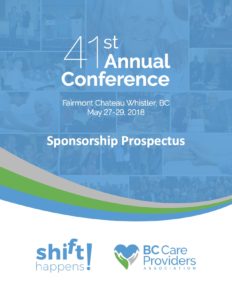 Our 2018 conference entitled Shift Happens! will focus on the many prevalent shifts that are occurring in the continuing care sector. Inspiring and motivating workshops, high profile opening and closing key note speakers, engaging networking events, and a dynamic tradeshow make the BCCPA annual conference the premiere event to promote your goods and services.
Our 2017 Annual Conference had a record attendance with over 500 service providers, commercial members and exhibitors, and community service groups from across Canada and beyond. We anticipate this number to continue to grow as our first-class educational program, dynamic networking events, and the magnificent setting of Whistler make this conference one of the top events to attend in Canada.
We are expecting over 260 key decision makers to be in attendance including owners, operators, senior management, and board directors from the continuing care sector. Our growing membership base includes over 300 residential care, assisted living, home care members from across British Columbia.
Our members employ over 20,000 people and provide care for over 27,000 seniors each day.
Why should your organization be a part of this event?
Become a recognized sponsor at British Columbia's premiere continuing care sector event
Meet face to face and promote your organization and services to key decision makers
Become involved in our mission to enhance quality of life for seniors
Learn about current trends in the continuing care sector
Please complete the Sponsorship Submission Form and email to cathy@bccare.ca. Custom sponsorship opportunities will be considered.
Thank you to our 2018 Sponsors:

Title: Handicare (formerly Angel Accessibility Solutions)
Platinum: Essity
Gold: Medical Pharmacies, CareRX, Rexall Health Solutions, ArjoHuntleigh and Telus Communications
Silver: Remedy's RX , FortisBC, Scout Technology Guides, Cardinal Health, Point Click Care, Extendicare Assist, Medisystem and St. Elizabeth
Our Tradeshow is now sold out! 80 booths were offered for sale to BCCPA members on October 2 2017 and were all sold by October 4th. A limited number of sponsorship opportunities remain where a table on-stage in the tradeshow will be provided where you can display your banner and promotional materials for the duration of the sponsored break. Please view our Sponsorship Prospectus or email cathy@bccare.ca for more information.
A waitlist will be taken for all other interested parties. Please email cathy@bccare.ca to join the waitlist.
Registration will open in early February 2018. The cost for non-exhibiting commercial members is $1500 + GST and includes all meals, evening networking events, and conference sessions. It is a great opportunity to network and meet those key decision makers in the continuing care sector
Care to Chat Sponsorships
Care to Chat is a special speaker series hosted by the BC Care Providers Association. We invite Canada's opinion leaders and experts to share their ideas, thoughts, and insights; as well as engage in a dialogue about important and emerging issues facing British Columbia's continuing care sector. The talks are held as either breakfast or lunch sessions with plenty of time to network before the program begins. Audience members include residential and home care providers, government and health authority representatives, health and legal professionals; as well as seniors and families.
Our 2017/18 Care to Chat sponsorship packages are sold out. RFP for Title Sponsor for the 2018/19 season will be released in June 2018.
Thank you to our 2017/18 Care to Chat Sponsors:
Title Sponsor Rexall Health Solutions
Gold Sponsor: Arjo
Silver Sponsors: Medical Pharmacies, Sobeys Pharmacy | The Pharmacy at Safeway,Essity
BC Care Awards
Every day front-line workers, staff, and care providers across B.C. engage in challenging and inspiring work. The BC Care Providers Association celebrate their dedication, innovation and excellence within continuing care sector across the province at our 5th Annual BC Care Awards ceremony in Victoria.
Our 2018 BC Care Awards sponsor is Care RX, a division of Centric Health.
BC Continuing Care Collaborative
The BCCPA, in partnership with the Ministry of Health, will bring together over 120 stakeholders at the Second Annual BC Continuing Care Collaborative on January 26, 2018 at the Sheraton Guildford Hotel. The inaugural event in September 2016, was dubbed "historic" for its broad representation from all parts of the continuing care sector. This event is by invitation only. The Honorable Adrian Dix, Minister of Health, will provide keynote during luncheon.
Luncheon Sponsor: McKesson Canada
Event Sponsor: Arjo
Online Promotional Opportunities
Both BCCPA members and non-members can post a marketing or enhanced job promotion on our website (which attracts over 110,000 page views annually), as well as have it sent by e-blast to BCCPA email subscribers. We also tweet out the posting to an audience of approximately 2,000 Twitter followers and post on our Facebook page. Advertising with us is the best way of ensuring the posting is viewed by the greatest number of people working in B.C. and Canada's continuing care sector.
Marketing Promotion
Promotion length: 30 days
Linked to square web ad (random rotation)
Posted to Twitter, Facebook
1 x Limited Email members only blast
Enhanced Job Promotion
Promotion length: 30 days
Posted on Job board
Linked to square web ad (random rotation)
Posted to Twitter, Facebook
1 x Limited e-mail members only blast
The cost is $500 (members) & $1,200 (non-members) + GST for each 30-day promotion. Website analytics available upon request.
Advertise on our Website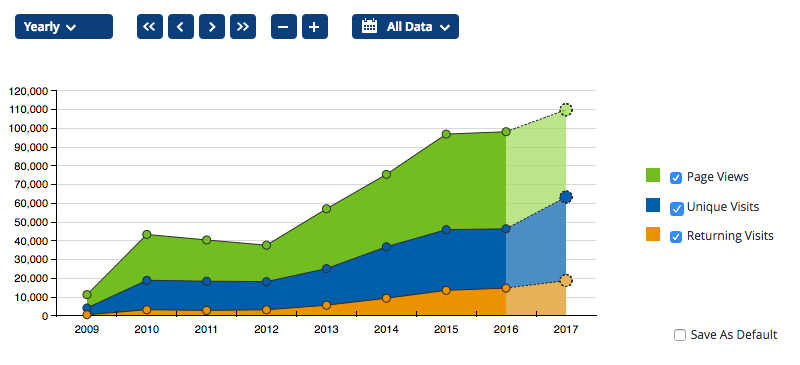 Our bccare.ca website has well 110,000 page views annually, and is the go-to resource for key decision-makers and 15,000+ employees working in the continuing care sector. It is also a great source of information for families and residents in care. With thousands of unique visitors each month, it is a great way to provide exposure for your goods and services.
Our website includes professionally written human interest stories, links and commentary on the latest reports and research, as well as an array of social media engagement.
Ads set semi-annually
4 key placements
Home page: 3 medium squares (1 ad per placement on our highest traffic page)
Top of page Leaderboard: 728×90 pixels
Right medium square above fold: 250×250 pixels
Right medium square below fold: 250×250 pixels
Full stat reporting for impressions/clicks
Ad graphics can be static JPG or PNG format, or animated GIF format
Platinum – $2,500 
Leaderboard banner (all pages)
Home page medium square
Medium square (above the fold—top right)
Gold – $1,500
Home page medium square
Medium square (above the fold)
Silver – $750
Medium square (above the fold)
Bronze – $350
Medium square (below the fold)
Why should you sponsor and advertise with the BCCPA?
Our members represent the full continuum of care:
Residential care
Long-term care
Home care and home support
Licensed private pay
Congregate & assisted living
BCCPA Quick Facts
Over 300 service provider and commercial members across BC
BCCPA represents more than 12,000 residential care beds – this is over 65% of the contracted beds in the province
BCCPA members represents over 50% of the home care payroll in the province
Our members have more than $1.5 billion in capital investment
Our members employ in excess of 11,000 full-time workers
Our private and publicly funded home support members provide service to more than 12,000 clients annually
Many of our members have been in operation 20+ years
Care providers have a wealth of experience, knowledge, and are leaders in innovation
BC's annual Home and Community Care budget is almost $3.0 billion, which is on par with the fifth largest Ministry
To purchase or for more information
Contact: Cathy Szmaus, Director of Events & Administration
Office: 604-736-4233 X 226 E-mail: cathy@bccare.ca