BCCPA urges school districts, provincial government to support seniors care recruitment
In response to urgent demand for new frontline care workers in order to meet the challenge of an aging population, BC Care Providers Association (BCCPA) are calling upon B.C. school districts and the provincial government to prioritize the training of health care assistants. In multiple letters delivered this week, BCCPA are drawing attention to the looming crisis for seniors care providers who face staff shortages — particularly among health care assistants (HCAs) who play a central role in the care of B.C.'s elderly population.
"With health human resources as the topic of a major seniors care sector dialogue this week, we are pulling out the stops to raise awareness among the public on the need to increase frontline staff in care homes and with home support across B.C.," says BCCPA CEO Daniel Fontaine. "We have sent correspondence out to both the B.C. Ministry of Advanced Education, Skills & Training (AEST), and to individual school districts across the province to support continuing care career training."
This week, BCCPA requested that AEST broadens their "loan forgiveness" initiatives to include students who are training to become health care aides (HCAs).
"Tuition for Health Care Assistant programs varies from up to $4,000 for public institutions, to $11,000 for private colleges" says Fontaine. "This is a significant financial investment, especially for those individuals considering a career in the continuing care sector who are currently unemployed or earning minimum wage."
In addition to the outreach to AEST, BC Care Providers Association sent individual correspondences to all of B.C.'s school districts, asking them to establish (or expand existing) dual credit programs that will encourage more students to enter the workforce as HCAs.
In his letter to BC school boards, Fontaine notes: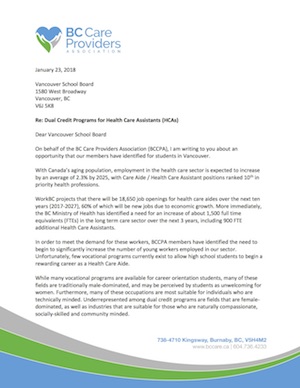 "While many vocational programs are available for career orientation students, many of these fields are traditionally male-dominated occupations. Underrepresented among dual credit programs are fields that are female-dominated, as well as industries that are suitable for those who are naturally compassionate, socially-skilled and community minded. The BCCPA considers this to be an oversight given the many benefits of working as a Health Care Aide."
"Though successful dual credit programs exist in the B.C. Interior and on Vancouver Island, we were surprised at the lack of spaces for HCA dual credit programs in the majority of our school districts," comments Mike Klassen, BCCPA VP Communications and Stakeholder Relations. "Increasing those spaces therefore represents a real opportunity to match students seeking to enter careers in health care with care providers all over B.C.
"So far these requests have been received positively."
This Friday, BCCPA in partnership with the Ministry of Health is hosting a major conference on the subject of health human resources—the 2nd Annual BC Continuing Care Collaborative. Minister Adrian Dix will be giving a keynote talk to over 170 delegates at the event on Friday, January 26th.
In a January 19th interview with reporter Shane Woodford on Radio NL in Kamloops, Dix acknowledged the challenge we face in finding seniors care job candidates.
"Probably a quarter to a third of care aides are over the age of 55. And a majority of them are part time workers," said Dix. "We have to find, to meet the demand of the 3.36 [direct care hours commitment] 900 net new care aides. And then we have to find other new care aides to deal with attrition and people retiring. So, this a significant health human resource challenge, and we need to apply resources to that, and we will."
BCCPA will feature online content during and after the Collaborative, which can be followed at bccare.ca and on social media using the hashtag #BCC3.