Concerts in Care strike a chord with residents and staff at care homes
The Borealis String Quartet's rendition of Beethoven's String Quartet No. 10 transported the audience at Carlton Gardens back to simpler times. As residents and staff sat transfixed for the 45-minute performance, it was telling how powerful the relationship between music and memory can be.
The performance in Burnaby was part of Health Arts Society's Concerts in Care program, sponsored through a grant from BC Care Providers Association. 40 concerts in care homes across B.C provide those isolated from the arts community the experience of enjoying musical performances in their own care setting.
The concerts have been well-received by residents, staff, media, and local government representatives.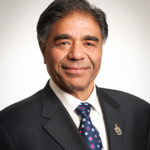 Burnaby city councillor Sav Dhaliwal, who attended the performance at Carlton Gardens, said programs like Concerts in Care can significantly improve day-to-day life for residents in care homes.
"For the BC Care Providers Association to take this initiative, delivering concerts at 40 different residences, is a wonderful undertaking. It adds to the excellent care given to residents by providers, and makes life more enjoyable for them," said Dhaliwal.
The therapeutic benefits of music are incontestable, and performers witness firsthand how the performances affect the residents.
"It's gratifying to share our passion with the residents, and we can see the music impacts them in a very strong way," said Yuel Yawney, violinist with the Borealis String Quartet. "Oftentimes we hear from care providers that the music has really invigorated the residents—sometimes residents who haven't spoken for months come alive when listening to the performances."
CBC Radio Daybreak South – report on Concerts in Care
Listen to the story produced by reporter Bob Keating for CBC Radio on Concerts in Care arriving in the Kootenays. Features interview with BCCPA board member Celeste Mullin.
The Reviews Are In!
Below are some enthusiastic reviews of Concerts in Care by residents and staff at care homes across BC. The BCCPA is heartened by the response the program has received, and will continue working towards its commitment to improve quality of life for BC's seniors.
The concert was amazing, and the residents and families loved the performance.  It was great to be a part of this tour, and I can't thank you enough for bringing such joy to the residents and families.
Amy Gordon
Recreation Coordinator at Spring Valley Care Centre
Kelowna, B.C.
Thank you for the opportunity to have Julie and Karen Lee come to our home and present their musical talents! Our residents and families truly enjoyed this special performance—we thank you so very much for thinking of us and inviting us to host this event.
Michelle Wingfield
Community Administrator at Brandt's Creek Mews
Kelowna, B.C.
The event itself was absolutely wonderful. We had a mix of assisted living, complex care and dementia residents all of whom responded really well to the quality music being performed. Karen and Julie engaged with the audience and made it a real special day.  As a token of appreciation, our group of about 50 residents sang "Show me the way to go home", a classic parting song. Please let everyone you know involved in this initiative that it was most appreciated at Heron Grove. 
Chris Smith
Recreation and Volunteer Coordinator at Good Samaritan Heron Grove
Vernon, B.C.
Our Concert in Care was a wonderful event. The residents had spent the week prior creating decorations and a poster-board for the concert. It was quite magical watching the residents of our care centre so engaged and in awe. Everyone sat transfixed as the Borealis Quartet performed. The residents were calm and still throughout the performance, with no signs of agitation or restlessness. 
One resident said, with teary eyes, "When I lived in Germany, my husband and I would go to the opera to listen to classical music. I was transported back there."
There were many calls of "bravo" from residents after each piece.
Mayor Ted Schaffer said it was "a lovely and relaxing event to attend."
Thank you again to the BC Care Providers Association and the Health Arts Society for this generous gift in their 40th anniversary year. It was greatly appreciated.
Sue Wilson
Director of Care at Magnolia Gardens
Langley, B.C.
Thank you again for allowing Glenmore Lodge to be a part of your Concerts in Care! The concert was fantastic and our residents really enjoyed having such a wonderful live music performance! We had residents singing, clapping and dancing along! Thank you again!
Quotes from residents:
"This was absolutely fantastic. It was nice to have different instruments and such talented individuals come play for us! I really enjoyed myself"
"What a beautiful performance!"
"I had such a lovely time, can we have them back again to perform?!"
"I couldn't stop my toes from tapping!"
Heather Owens
Director of Resident Programs, Glenmore Lodge
Kelowna, B.C.
Thank you for entertaining us at The Hamlets. It was a great experience for us.
Gordon R. Gore
Resident
The Hamlets at Westsyde
Kamloops, B.C.
Thank you so much for including The Hamlets at Westsyde in your concert tour! We were so happy to have you, and we were thrilled with the performance!
Some resident quotes:
"I was just blown away by the quality of the music"
"I used to play Clarinet in high school and I never knew it could sound so lovely. It just filled the room"
"I have no idea how you arranged for that performance, but whatever you did, do it again!"
"That was absolutely fantastic!"
A wonderful performance. Thank you so much for allowing us the opportunity to host!
Andrea Baillie
Recreation Manager at The Hamlets at Westsyde
Kamloops, B.C.
We at Courtyard Terrace cannot begin to express our gratitude to the BCCPA for sponsoring the Borealis String Quartet to play for the tenants at Courtyard and filling our home with such beautiful music. The concert was truly awe inspiring and the tenants loved—LOVED—every minute of it.  
There really are no words to describe the emotion, the reaction or the absolutely brilliant performance that the tenants of Courtyard experienced. All I can say is Thank you and thank you again.
Pauline Leahy
Recreation Coordinator at Courtyard Terrace
Burnaby, B.C.
"On behalf of Park Place Seniors Living, SimpeQ Care, the staff and tenants of Courtyard Terrace, I wish to congratulate the BC Care Providers Association on their 40th year anniversary and the Health Arts Society for their continued dedication to improving the lives of seniors through professional musical performances; which I must admit provides a much-needed respite from the repetitive routine of meals, doctor's appointments and care for a majority of BC seniors.
This year the BCCPA, partnered with the HAS, are generously funding 40 concerts in 40 care homes across BC through the Concerts in Care program. Courtyard Terrace is proud to have been chosen as a participant in this wonderful anniversary celebration. We are the lucky ones!
From the bottom of our hearts, we thank both the BCCPA and HAS for their generous gift of music.
Habiba
Resident at Courtyard Terrace
Burnaby, B.C.
I would like to pass on our gratitude to BC Care Providers for giving us such a wonderful opportunity to enjoy such esteemed musicians performing for our residents.  Music is such a deep connection to the world for our dementia residents. I observed many smiles and toes tapping along with the music pieces performed.
Residents quotes were along the lines of;
"It was very enjoyable and amazing to hear a string quartet."
"I enjoyed it very much."
"It is the kind of music that you can feel."
"Amazing to watch the musicians as they are living the music they play."
"My wife and I always went to classical concerts, that was a long time ago."
Colleen McNab
Director of Recreation at Fleetwood Place
Surrey, B.C.
I would just like to convey how impressed our residents, family and staff were with the two performers that came to Haven Hill (Julie and Karen), they were incredibly talented. It truly was a magical experience that had them talking afterward with great excitement!
Some quotes from our residents:
"They were just amazing."
"I wish they could come more often, it was beautiful."
"It brought back memories, the music reminded me of my father."
Again, thank you to the BC Care Providers for this opportunity.
Kara Nelson
Recreation Manager and Volunteer Coordinator at Haven Hill Care Centre
Penticton, B.C.