BC Liberals and BC NDP release campaign platforms outlining investments in seniors care
With only a few weeks left until the provincial election campaign ends, political parties have begun to roll out their platforms in an effort to attract voters on election day.  While a number of issues have started to garner media attention, seniors care continues to generate significant interest.
Premier Christy Clark and the BC Liberals election campaign platform was released on April 10th. They committed to adding 500 publicly-funded residential care beds into the system by 2022. Here are some highlights from their platform: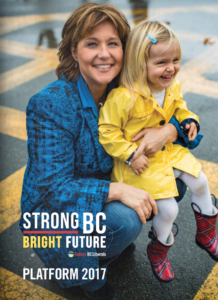 Double the home-renovation tax credit from $10,000 to $20,000 to make home improvements to house seniors and also introduce a tax credit of up to $2,500 for people caring for seniors.
 Introduce a new tax credit to support seniors living active healthy lifestyles.
These measures are in addition to the previous Budget 2017 commitment to invest up to $500 million over four years to ensure all care homes have an average of 3.36 direct care hours per health authority.  To read the entire BC Liberal Platform click here.
Earlier today, John Horgan and the BC NDP released their campaign platform which includes a plan to invest $90 million by 2020 to improve home support and residential care for seniors. Other highlights of their platform are as follows: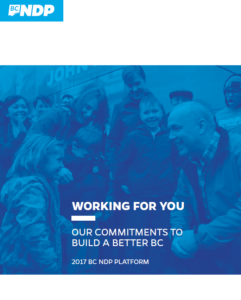 Increase support for residential care and demand accountability from providers to ensure that they meet staffing standards, including a systematic review to establish and maintain safe staffing levels going forward.
Invest in infrastructure by building quality seniors' care homes, helping seniors transition to quality care closer to home, and live with greater dignity.
Expand home care hours and services by increasing the length of home support visits and expand the scope of services provided, helping seniors stay in their homes longer.
Guarantee a reduction to the demand on acute care and emergency beds by investing in home care and quality long-term residential care for BC seniors.
Create a capital fund and work with local governments and community partners to build and strengthen seniors' centres around the province.
Review the entire BC NDP platform here.
" There has definitely been a lot of attention paid to the issue of seniors care leading up to and during the first week of this election " says Daniel Fontaine, BCCPA CEO. " It will now be up to voters to make their decision on May 9th as to who has the best plan to support BC's seniors moving forward."
BCCPA anticipates the release of the BC Green Party's election campaign platform which should also reference seniors care.  The BCCPA will release a summary of their platform once it becomes available.