How the Plecas Plan will strengthen home and community care for B.C. seniors
By Michael Kary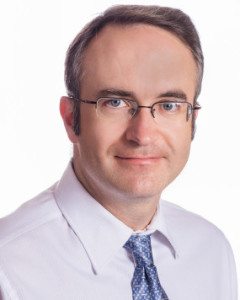 On March 9, 2017 the BC Ministry of Health released a new Action Plan to Strengthen Home and Community Care for Seniors. This coincided with a Ministry of Health announcement of $500 million in new funding for seniors care over four years, along with the release of the final Residential Care Staffing Review report by Dr. Darryl Plecas, Parliamentary Secretary for Seniors to Minister of Health.
While this op-ed will focus more on the Action Plan (which we also refer to the "Plecas Plan"), the BC Care Providers Association (BCCPA) is very pleased with the announcement made earlier this month as it will help boost direct care hours (DCH) and health human resources (HHR) in the continuing care sector. In addition, these and other initiatives as outlined should also assist in improving the quality of life for BC seniors, as well as providing better care in the community for the frail elderly, including seniors with chronic conditions and dementia.
As outlined in its announcement, BC is investing $500 million in new funding over the next four years as part of a Ministry of Health Action Plan to improve care for seniors across the system, including increasing direct care hours (DCH) for seniors in residential care. Included in in the $500 million is $275 million to be provided over the next four years for home and community-care (HCC) services as part of the recent health funding agreement with the federal government.
Along with the $500 million, Health Authorities also will continue increasing their budgets for home and community care over the next four years, reaching about $200 million above current levels by 2020-21. As outlined in the media release, over the next four years annual funding increases from the Ministry of Health will enable the health authorities to reach a consistent average of 3.36 DCH per resident day across both publicly administered and contracted residential care homes. Using the current staffing framework and the labour costs provided by the Health Employers Association of BC (HEABC), the Ministry calculates it could cost upwards of $113.7 million for an increase of 1,511 full time equivalents (FTEs) to meet a standard average of 3.36 hours per resident day by health authority. Nearly 900 of these FTEs are expected to be health care aides.
Along with outlining the current seniors population in BC, the Action Plan provides an overview of home support services, assisted living and residential care including populations receiving such care. The Action Plan includes key actions in the areas of:
Focus on healthy aging (i.e. initiatives on healthy aging and self-care);
Provide better coordinated and integrated community care for seniors with complex medical needs and/or frailty (i.e. Specialized Community Services Program for seniors living in community);[i]
Work with assisted living residences to implement the new Community Care and Assisted Living Act provisions (i.e. Bill 16);
Strengthen role and quality of residential care;
Health Human Resources (i.e. Specialized Community Services Program for Seniors interdisciplinary teams and 1,500 FTEs for residential care);
Monitoring, Evaluation (i.e. develop monitoring & evaluation plan); and
Funding (i.e. overview of funding increases to 2020/21). [ii]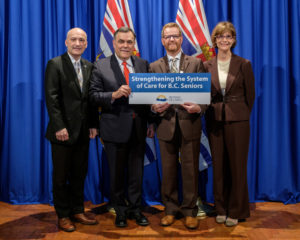 While not outlined in detail in either the Plecas report or Action Plan, the province will also spearhead several other measures to improve supports for seniors, such as additional home-support services and hours, as well as increased home-health monitoring. In addition, it will provide $10 million to the BCCPA to help industry fund equipment like wheelchairs and patient lifts to help people with limited mobility in publicly funded facilities.
While the Action Plan and the Plecas report do not address all of the 30 recommendations from the BCCPA paper Strengthening Seniors Care: A Made-in-BC Roadmap released in January 2017, it does deal with three of four pillars identified: investments in health human resources (HHR); quality of life; as well as infrastructure.
With regards to the area of HHR, the BCCPA had also advocated for more DCH funding, which is outlined in the government's announcement.  The BCCPA had also outlined the need for more funds for a recruitment and retention strategy, which is addressed in the Action Plan. In the media release, the government also states its intention to increase home support hours, a very positive development that has also been advocated by the BCCPA, as seen by the recommendation in Strengthening Seniors Care to increase home care visits to a minimum of 30 minutes.
With regards to infrastructure, the BCCPA had advocated for additional funding particularly new capital investments. While this is not largely addressed in the Action Plan or the Plecas report, the Ministry, however, will be providing $10 million to help industry fund equipment like wheelchairs and patient lifts. This is the first time the Ministry of Health is funding BCCPA and industry directly to manage infrastructure including having a say regarding where funding is allocated. This new funding should also help assist in reducing workplace injuries, which are still much too high in the continuing care sector.
In regards to quality, the BCCPA had advocated for a quality of life fund to support areas such as increased access to life enhancing therapies (i.e. physiotherapy, recreational therapy and occupational therapy) as well as better food and nutrition for seniors in residential care.  These areas are also highlighted in the Plecas report and Action Plan with various initiatives outlined. The Action Plan, for example, notes the need to increase health-care professionals (i.e. physiotherapists, occupational therapists, etc.) by about 50 FTEs as well as improving nutrition care practices for BC seniors across the continuum of care.
The only area that is not addressed in the Action Plan is the innovation pillar, which in the BCCPA report focuses on the idea of care credits and the continuing care hub. The Action Plan, however, does mention establishing enhanced services in some residential care facilities to provide a higher level of medical care on a short-term basis for frail, complex older patients to avoid hospital admissions or allow residents to return from hospital sooner.[iii] This is an idea that the BCCPA has also outlined in previous reports as part of its continuing care hub model particularly to provide an expanded level of services, including to reduce emergency room visits and Alternate Level of Care (ALC) days.
Overall, the content of the Action Plan much like the Plecas report is positive as it recognizes many of the issues identified by the BCCPA in earlier reports such as increasing DCH levels; improving HHR; and improving seniors quality of life. In particular, the action area to increase number of FTEs (i.e. 1,500 FTEs) to meet the DCH standard is very encouraging.  In summary, the BCCPA is very pleased the B.C. Government is responding to calls from the province's seniors care providers, and will implement many BCCPA's recommendations to help strengthen seniors care delivery in British Columbia.
By making these significant investments in home and community care, B.C. seniors and their families can have greater confidence that the right care will be there, at the right time, and in the right place.
END NOTES
[i] The Ministry of Health outlines that specialized community service programs operated by health authorities will be introduced in communities throughout the province to help proactively support the health of seniors with complex medical conditions such as frailty, dementia, multiple chronic illnesses or end-of-life care needs.
[ii] As outlined in the Action Plan, by 2020/21, net new annualized funding will reach $180M, starting with an additional $45 million being available for 2017/18, rising to $125 million in 2018/19, $150 million in 2019/20, and $180 million in 2020/21.
[iii] These services will be available to both patients who are living in the community and in the facility who would otherwise require a visit to the emergency department, with a possible hospital admission, or who has been hospitalized but their condition has stabilized.