Sandwich Generation release media wrap-up
The response to our BCCPA poll conducted by Insights West has been far reaching, and helps to validate that there is strong public support for new investments in care. For our readers we are providing a wrap-up of the coverage of the past 2 days.
Global BC News Hour: "The 'Sandwich Generation' feels the squeeze"
Report by Nadia Stewart looks into the life of Diana Hill, as she looks after her mother with 2 kids at home.
Vancouver Sun / The Province: Poll shows 'sandwich generation' caught between rock and hard place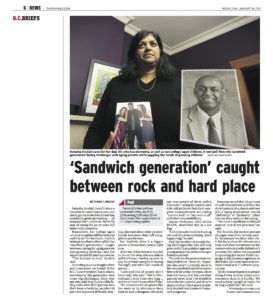 Report by Bethany Lindsay, tells the story of Natasha Aruliah looking after her father at home, while taking care of kids. Prominently featured on page 6 of The Province print edition and online.
CKNW News: 'Sandwich generation' struggle to provide care for kids, aging parents: Poll
Report by Jon Meyer – audio archive below.
News1130 – BC's sandwich generation facing challenges: poll
Report by Stephanie Froese – audio archive below.
Janice and Cory Show — Roundhouse Radio 98.3 interview with Daniel Fontaine
Pulse FM – Kash Heed Show – interview with Mike Klassen